By
Lewis
- 18 May 2017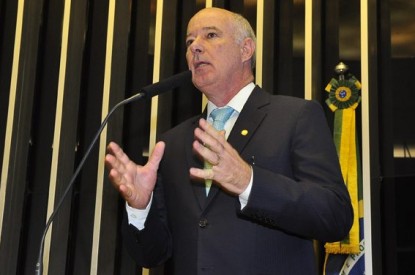 President of the Parliamentary Front in Defence of Tourism in Congress (FRENTUR), Herculano Passos, has urged fellow lawmakers to try to push forward a bills which would legalise casino gaming. At a meeting last week held by The National Forum of State Secretaries and Directors of Tourism (FORNATUR) in Brasilia the Deputy said that gaming bills are both ready for a vote in Congress but it would be up to the secretariats of state tourism to lobby lawmakers so that the bill goes for a vote as soon as possible as it is just one of many controversial projects which are scheduled for a vote. It was agreed that Passos and Santa Catarina's Secretary of Tourism, Leonel Pavan would coordinate efforts in this regard.
Passos also said that he had met with Chairman of Las Vegas Sands, Sheldon Adelson and mediated meetings between Adelson, President Michel Temer and President of the Chamber of Deputies in Brazil Rodrigo Maia. Both Congressmen Passos and Maia are long time supporters of new gaming legislation which would allow for large casinos as part of entertainment complexes and resorts.
Deputy Passos said: "Sands invested US$6bn in Singapore and US$14bn in Macau. It is a very strong group that has an interest in investing in Brazil, but it can not do that without an established regulatory framework. Promoting these meetings with the presidents was (in order) to try to sensitise them to the fact that Brazil could receive large investments, which will bring many jobs and income for the country. But for this, the legalisation of gaming, which is being negotiated in the Chamber of deputies and the Senate, has to be approved."
Deputy Passos also confirmed that the company had shown an interest in investing in Brazil. "When casinos are released here, they will have to operate in complexes that contain, in addition to the gaming space, luxury hotels, shopping malls, restaurants, entertainment spaces, convention centres and other recreational areas. The Sands group is interested in opening three such complexes in Brazil and came here to demonstrate this interest."
Last week Sheldon Adelson alongside a number of other businessman and local politicians also met with mayor of Rio de Janeiro Marcelo Crivella to discuss a new government program aimed at driving economic growth. Governor of the state of Rio de Janeiro Luiz Fernando Pezão was also present at the meeting held the major's office in the City Palace. The Mayor said that he hopes to be able to count on Adelson in the future when it comes to the development of the region of Porto Maravilha. Operation Porto Maravilha is an urban renewal project in Rio de Janeiro's Downtown Port Zone, involving an area of 5 million square meters and aimed at completely changing Rio de Janeiro's neglected port area.
Related Stories