By
Phil
- 11 October 2017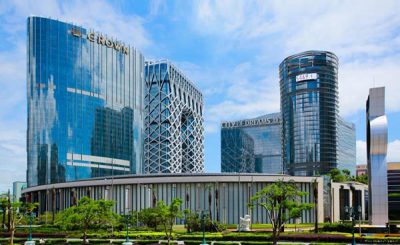 Macau resort casino City of Dreams has marked the countdown to its much-anticipated launch of Phase 3 and the opening of the new Morpheus hotel concept in style by commissioning the award-winning and world-renowned artist Maarten Baas to create a striking art piece at The Countdown Hotel.
The "Count:Down Clock" is the first real-time clock that Baas has created in Asia and also his first ever installation in Macau, and will count down the hours and minutes until the launch in 2018.
To make the clock, Baas and his highly accomplished production team filmed six actors in real time as they carefully paint and then wipe away the numbers denoting all the hours and minutes in the day on a hazy etched glass face. Every number is therefore unique, with the filming alone taking 10 days.
The art piece is the latest edition in Baas' acclaimed "Real Time" series, a collection of 12-hour films in which actors indicate the time minute by minute. For the Count:Down Clock, Baas has dressed the actors in black tie to create a more stylish aesthetic. "I wanted it to look more luxurious, as if they're giving you a personal VIP service," explained Baas. "They are the ones who you can rely on."
Mr. Gabriel Hunterton, Property President of City of Dreams, said: "The forthcoming launch of City of Dreams Phase 3 and the opening of Morpheus mark the beginning of a bold new era for Macau, and so it is only fitting that we celebrate the countdown in groundbreaking and eye-catching style. Maarten Baas is one of the most exciting and original design talents in the world today and we are delighted to work with him on this innovative project. I hope that our guests will enjoy this creative spectacle over the coming months and join with us in counting down to our eagerly anticipated launch of Phase 3 in 2018."
In 2009, "Real Time" earned Baas the prestigious title "Designer of the Year" at Design Miami.
In 2015, design bible Wallpaper* named Baas as one of the design world's 100 most wanted people. His works are in major museum collections such as MoMA, The Victoria and Albert Museum, Les Arts Décoratifs, San Francisco Museum of Modern Art, Die Neue Sammlung, Stedelijk Museum and Rijksmuseum.
Related Stories