By
Phil
- 13 November 2017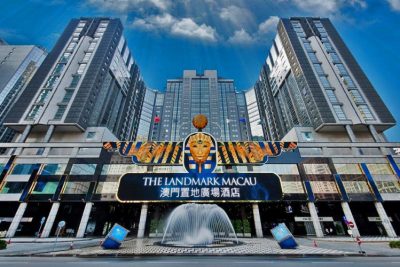 Macau Legend Development Limited is selling The Landmark Macau hotel and casino and its management company New Macau Landmark Management Limited for HK$4.6bn to four local Macau companies.
It has said it wants to streamline and focus its efforts on the success of its Macau Fisherman's Wharf development.
Dong Lap Hong Property Investment Company Limited will buy 58 per cent of New Macau Landmark Management, Tong Lap Tak Real Estate Limited will buy 20 per cent, Tong Hong Wan Real Estate Limited will buy 17 per cent and Tong Tak Cheng Real Estate Limited will buy five per cent.
The Landmark Macau boasts 439 five-star rooms and suites as well as Pharaoh's Palace Casino with 60 mass market gaming tables, 17 VIP gaming tables and 141 slots. The Landmark Macau is strategically located on the Macau Peninsula along the Amizade strip in the vicinity of the Nam Van entertainment district. The Landmark Macau is approximately a fiveminute walk from Wynn Macau, Casino L'Arc Macau, Galaxy Star World, the Grand Lisboa and the Hotel Lisboa.
Macau Legend Development said: "The Directors consider that the Disposal will enable the Group to streamline its operation and allow the Group to focus on the operation and development of Macau Fisherman's Wharf. As a waterfront property, MFW has the potential for further development through land reclamation. The Board believes that MFW, which is the only major waterfront entertainment complex in Macau that is easily accessible to Macau residents and overseas visitors, could attract and cater for a greater number of patrons. In the past few years, the Group has employed more new staffs and reallocated manpower from The Landmark Macau to MFW to cater for the increase in demand as a result of the opening of new hotels and casino in MFW. As the Group is now operating two entertainment complex, namely The Landmark Macau and MFW, the operating costs including the labour cost of the Group have increased tremendously. The Disposal will streamline the development of hotel and gaming business in MFW.
"The Macau Fisherman's Wharf Redevelopment is significant to the Group because the Directors believe that the upgraded and new gaming and leisure facilities in MFW will attract more premium mass market patrons, continue providing luxurious amenities and a high level of service to VIP patrons, and increase revenues from the mass market segment as well as from non-gaming activities."
Following completion of the deal, the company will continue to provide gaming services at Pharaoh's Palace 'for as long as SJM maintains its status as a gaming concessionaire in Macau, including extensions and/or renewals of the existing gaming concession and/or a new concession obtained by SJM.'
Related Stories