By
Phil
- 9 August 2017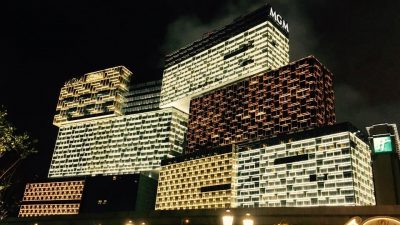 MGM Cotai, a HK$26bn integrated resort set to open in the fourth quarter of 2017, will represent MGM's vast experience in entertainment, creating first-of-its-kind entertainment experiences in Asia through the MGM Theater at COTAI, Asia's first dynamic theater.
Designed by Scéno Plus, a world leading performance arts and entertainment design firm, the MGM Theater at COTAI is the world's first theater to offer 28 million pixel of viewing pleasure to its audience by utilising a giant 900-square-metre 4K (or ultra HD) LED screen, which is the size of three tennis courts combined. Through utilising ultra-high-resolution live video system, the Theater is able to capture the audience's reaction and virtually reflected at real life size onto the LED wall, giving the public an impression of looking into a mirror. Upon completion, the MGM Theater at COTAI will be home to the world's largest permanent indoor LED screen, taking live entertainment a step closer to the world of mass virtual reality.
Over two years in the making, the Theater is an engineering and architectural masterpiece which can seat up to 2,000 people in more than 10 different configurations. Every detail has been carefully selected to ensure the greatest entertainment experience for all guests. The reconfigurable seating was developed by GALA Systems, the world's largest manufacturer of understage equipment and the leader in automated multipurpose halls, and will deliver prime sightlines for every guest. The seats are designed and manufactured by Poltrona Frau, one of the most esteemed Italian furniture makers with over 100 years of experience and the seat maker for Ferrari cars.
Empowered by the latest in technology and engineering, the MGM Theater at COTAI team can create custom arrangements for special events, from a traditional concert, fashion show or movie premiere layout to a 360-degree configuration for talk shows, product launches and international DJs.
"The MGM Theater at COTAI brings the future of events to Macau, today," said Mr. Jim Murren, Chairman & Chief Executive Officer of MGM Resorts International and Chairperson & Executive Director of MGM China Holdings Limited. "MGM is synonymous with entertainment and we have taken our deep knowledge and incorporated it with cutting-edge technology to create a setting that will redefine and elevate the way our guests experience entertainment."
"The intricacy of the Theater is one of the most complex in the world and we have invested in training our local staff to learn how to use this leading entertainment technology. We sent a group of 10 local team members to Hollywood for an intensive two-week training program, helping them to familiarise themselves with the entertainment technology they will operate at MGM COTAI. The group has visited VER, the creative experience company that supplied the LED panels on the giant wall totaling 28m pixels," said Mr. Murren.
MGM Theater at COTAI will be home to three resident shows with two launching first, The Experience and Destiny. The Experience, inspired by the soul of Macau, is a 10-minute mind-bending and harmonious technological symphony that showcases the Theater's engineering and architectural dexterity. Meanwhile, Destiny is an electrifying, action-packed immersive theatrical production that is inspired by the concept of TV game shows and adventure video games. Through the Theater's various configuration capabilities, guests can experience multiple types of entertainment events at the same location.
All levels of the Theater will offer guests a wide range of food and beverage options. Meeting and convention planners can coordinate unique events using the Theater's scalable design, paired with MGM COTAI's professional hospitality experience to deliver great meetings and events for individual and corporate guests.
Related Stories