By
Phil
- 12 September 2017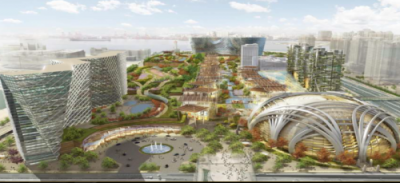 MGM Resorts CEO James Murren gave some pointers on the operator's objectives in Japan at the Bank of America Merrill Lynch 2017 Japan Conference.
He predicted that MGM Japan, an integrated casino resort which would demand an investment of $10bn, would open sometime in 2025.
Mr. Murren said MGM wanted to be part of a Japanese-led consortium but didn't specify whether the local partner would be a majority owner or not.
"We commit to being a good partner to Japanese companies in a Japanese-led IR consortium," said Mr. Murren.
The company presented some artistes impressions for resorts in Tokyo, Yokohama and Osaka, the three cities earmarked for potential development by rival operator Wynn Resorts last week.
Mr. Murren said MGM would create a 'uniquely Japanese Integrated Resort.'
MGM said it would 'design an integrated resort that honours Japan's values and traditions.' It will 'collaborate with many Japanese companies and be a trusted dependable partner.'
It reinforced its commitment to the Japanese market last week as it announced the appointment of former Charge d'Affaires, United States Embassy Tokyo, Jason P. Hyland as the Representative Officer and President of MGM Resorts Japan. In addition, MGM will allocate development specialists from the US to Japan as it increases its total development staffing in the U.S. and Japan combined to more than a dozen, reinforcing MGM Resorts Japan's organisational structure as it works to realise a Japanese resort.
To accommodate its expanding team, MGM Resorts Japan will relocate its office from Akasaka to Otemachi, Tokyo and open a brand-new office in the central business district on September 1, 2017. Since establishing Japanese subsidiaries in Tokyo and Osaka in 2014, MGM Resorts Japan has been providing information on integrated resorts (IR) to government, industry, and private entities, and will continue to build relationships and gather information on the domestic market. The company also plans to open a new office in Osaka in the future.
Mr. Murren said: "We are very pleased to welcome Jason to the team, and look forward to his contributions and insights. Jason's substantial experience as senior diplomat, his deep understanding of the Japanese culture, as well as his proven leadership, negotiation skills, extensive network and strong command of the Japanese language will be a tremendous asset as we promote activities in Japan."
Ed Bowers, MGM Resorts Japan Representative Officer and CEO, also commented: "Opening a new office in the heart of Tokyo's business district and expanding our MGM Japan team reflect our strong commitment and determination. The new office will become our core hub as our team advances toward the realization of a resort that is uniquely Japanese."
Jason has worked and studied in Asia for more than 17 years, including 14 in Japan. He has lived in Tokyo, Sapporo, Fukuoka and Osaka and travelled throughout the country.
Related Stories