By
Phil
- 13 April 2018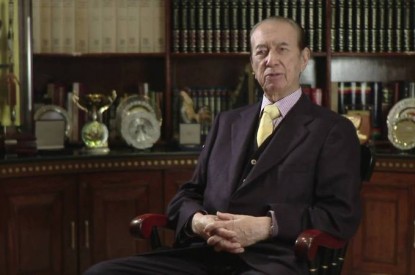 The 'founding father' of Macau's casino industry, Dr Stanley Ho, will step down from his role as Chairman and Executive Director of SJM Holdings in June.
SJM, who once held the monopolistic rights to operate casinos in Macau has seen its market share slip to 16.1 per cent in 2017 following the opening of the market to competitors in 2004.
SJM stated: "The board of directors of SJM Holdings Limited announces that Dr. Ho Hung Sun, Stanley will, with effect from the conclusion of the annual general meeting of the company to be held on 12 June 2018, retire from his positions as Chairman and Executive Director and a member of the Executive Committee of the Board of the company. In recognition of Dr. Ho's invaluable contributions to the Group during his tenure of services, the Board will appoint Dr. Ho as "Chairman Emeritus" of the company following his retirement at the 2018 AGM."
Dr. Ho confirmed he has no disagreement with the board and that he is not aware of any matters relating to his retirement that need to be brought to the attention of the shareholders of the company.
The company added: "Dr. Ho has justifiably been acknowledged as the founding father of Macau's gaming industry, which has for some time been the largest in the world in terms of revenue. Under Dr. Ho's visionary leadership, the company and its subsidiaries achieved a significant growth in the past decade. The Board expresses its sincere gratitude to Dr. Ho for his invaluable contributions in building a solid foundation for the company's continuing growth in the future."
The board will appoint Ms. Ho Chiu Fung, Daisy to succeed as Chairman and Executive Director of the company, Mr. Fok Tsun Ting, Timothy and Deputada Leong On Kei, Angela as Co-Chairmen and Executive Directors of the company; and Dr. So Shu Fai as Vice-Chairman, Executive Director and Chief Executive Officer of the company.
Related Stories