By
Phil
- 25 September 2017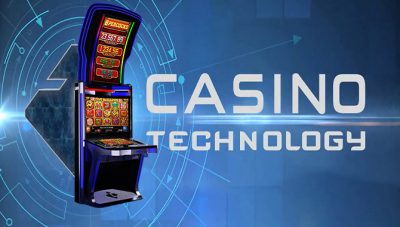 Casino Technology will roll out the new luxurious Arch Titan cabinet at G2E, Las Vegas.
As a successor of the premium ARCH slot, Arch Titan delivers the same immersive experience but brings another dimension with the added 43" vertical curved top box above the 43" horizontally curved monitor.
The slot machine is offered with the latest multilevel progressive game of Casino Technology – FIVE BLESSINGS DELUXE. The game was launched at G2E in Macau, receiving excellent feedback from customers and operators.
Rossi McKee, Vice President of Casino Technology said: "We are very proud to present our newest gaming solutions at G2E in Las Vegas and eagerly anticipate their premiere on the American market. Our concept is to deliver new level of gaming experience to the players, and Arch and Arch Titan reveals our commitment to innovation."
Another product – the new convertible slot machine, EZ Modulo, will be launched for the North American market by Casino Technology. With modern design, advanced ergonomics, build-in specially designed slot stand, EZ Modulo is a great solution for every casino floor. The cabinet has an option for adjustable height and modular design, allowing for easy conversion. The first release is introduced with two 27" HD monitors and optional 24" or 27" HD video topper. EZ Modulo will be presented with the latest series of the company's bestseller Speed King- the new multigame pack with 60 HD unique games. The immaculate features of the cabinet resulted in a recognition by the industry representatives and the slot machine was shortlisted for the Global Gaming Awards 2017 in the Land-Based Product of the Year category.
A bundle of games, designed with a particular focus to the North American customers, will be presented jointly by Casino Technology and its affiliate Alternative Gaming Solutions. Amongst them is the unique Hot Rod driven by the exclusive ARCH cabinet and wrapped up in the custom crafted famous hot rod – the 1932 Ford Roadster. Other games from the North American bundle are Wild Sunrise, Jungle Fortune and Magic Pearl.
Alongside the products for the brick-and-mortar casinos the company is presenting its interactive portfolio of products, including the Social Gamingportfolio of more than 100 HTML5 games, the new Leopard online platform synced with the other 4 system sets from the complete suite THE BIG 5, offering a seamless landbased to online casino systems solution.
"In the online corner we will be demonstrating the omni channel seamless systems solution. Combining five sophisticated systems, The Big 5 suite offers a full range of tools for both traditional and online businesses," said Rossi McKee, Vice President of Casino Technology.
Related Stories