By
Phil
- 9 February 2018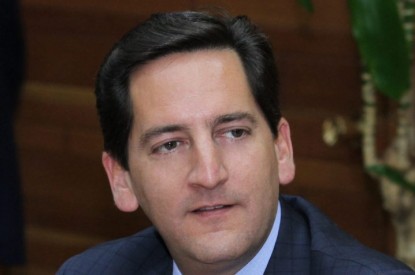 The Mexican lottery has presented the official launch of a number of new sales channels via electronic platforms, which will increase sales volume and expand its products to a much larger audience.
Both Mexican lottery organisations The Lotería Nacional para la Asistencia Pública (LOTENAL) and La Pronósticos para la Asistencia Pública (known more commonly as Pronósticos) have announced jointly that they will increase the number of products available online.
In a press conference, Head of the General Office Eugenio Garza Rivapalacio, pictured, announced that the new electronic sales channels would mean that the lottery would now be able to reach more than 90 million Smartphones as well as almost 70 million Internet users as well as generate an additional $250m for both the National Lottery and Pronósticos.
"In recent years The National Lottery (LOTENAL) and Pronósticos have been modernised to adapt to the demands demanded by the new times, especially to get even closer to young people who like the use of new technologies," Eugenio Garza told press. "We are convinced that this digital strategy represents the continuity of a new era for the National Lottery and Pronósticos, entities that have been pioneers in the gaming and lottery industry in Mexico and that have the prestige and recognition of Mexicans."
Lottery games now available to play online via an app are games such as such as Mayor, De Diez, Superior, Zodiaco, Zodiaco Especial, Especiales, Magnos and the Christmas lottery Gordo de Navidad. Meanwhile games such as Melate, Tris, Chispazo and Progol are available online via web pages such as aganar.com, Cmillonario, ganalottodo.mx, misuerte.mx and TuLotero.
During the conference, Eugenio Garza acknowledged that initial sales of its latest platform "Cachito Electrónico", which was launched in September 2016, had not met with initial expectations. Today, however, sales volume had reached one million pesos a day, which makes up 10 per cent of the total sales of the National Lottery and its draws. The "Cachito Electrónico" an electronic point of sales in lottery outlets heralded in a new stage for both lotteries as it saw an aggressive new marketing campaign designed specifically to attract younger players who do not usually buy traditional lottery tickets.
Crucially the new electronic point of sales means that customers who are visiting the Pronósticos outlets, which are far more numerous than the LOTENAL outlets can take part in LOTENAL games as it allows customers to buy tickets electronically via the new Cachito Electrónico points of sale. It also creates a closer relationship between both lotteries and the range of products they offer. The Cachito Electrónico is already available via a sales network made up of around 11 thousand points of sale.
Meanwhile Roberto Compean Woodworth, Deputy General Director of Marketing and Services said that while traditional lotteries draws will continue to be drawn live, online sales were the future of booth institutions. He also emphasised that while sales were below the average of other countries such as Spain, the United States and some countries in South America he said that there would be a significant increase in sales in a period of no more than five years.
Related Stories