By
Phil
- 8 September 2017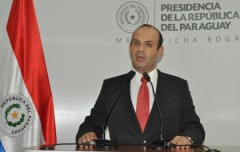 A large scale casino and hotel has been given the go ahead by Paraguay's Gaming Board (CONAJZAR).
According to local press reports investors are planning to invest as much as US$148m on the project which will be constructed on the island of San Francisco on the Paraguay River.
American company Vimerica Development LLC will invest in the project according to local press reports via its subsidiary Vimerica SA. The company plans to invest in the integrated resort with Paul Steelman, majority shareholder and CEO of Las Vegas, Nevada-based Steelman Partners. Steelman Partners is an industry-leading architectural firm and has designed over 4,000 casinos and integrated resort designs around the world and specialises in designing entertainment based projects.
According to the press release the project will be jointly developed by Global Gaming Asset Management (GGAM) and Vimerica. The government and CONAJZAR will soon sign off on the deal. It is estimated that construction will take 42 months to complete, and will employ 5,000 people directly and indirectly.
The island of San Francisco is located in the centre of the South American country and is an ecological reserve that measures 15 kilometres long by 5 meters wide and administratively speaking constitutes a part of Limpio city located in the north of the Central Department.
Javier Balbuena, President of gaming association Conajzar, said: "It is a transformative project for the entertainment industry as it is the biggest one for the country and of transcendent impact for tourism development creating in Paraguay a pole of attraction in this matter."
The announcement comes at a time when Paraguay is becoming increasingly popular as a tourist destination with a number of projects on the way as the board paves the way for future investments in the industry. Tourism to Paraguay increased by as much as 97 per cent in 2015, making it the fastest growing travel destination of that year and Paraguay is now South America's eighth most visited country.
A number of operators are believed to be interested in opening a new casino on an eleven hectare site owned by the National Administration of Navigation and Ports (ANNP) in Ciudad del Este. Interested parties include Hard Rock International as well as other operators from the United States and Chile. According to the terms of the new bidding process, total investment will stand between US$50m and US$70m and the licence will be granted for 20 years.
Related Stories