By
Phil
- 13 June 2018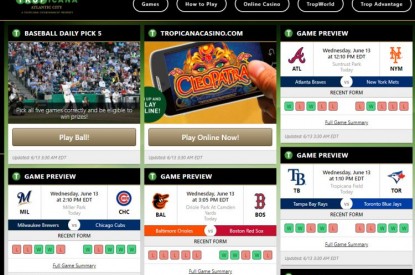 Tropicana Atlantic City Casino & Resort has launched Tropicana Sports, a unique free-to-play experience where sports enthusiasts can test their knowledge anywhere, anytime for a chance to win real prizes including overnight hotel stays, complimentary meals and drinks, VIP parties and more.
"This innovative platform will give our players the thrills that come with rooting for their favorite professional sports teams and predicting the outcome of the games in a variety of fun contests," said Tropicana Atlantic City General Manager Steve Callender. "We're making the experience MORE fun by awarding prizes so the winners can enjoy hotel and dining amenities offered on property."
Tropicana Sports offers plenty of ways to win including daily, weekly, and monthly contests on all your favorite tournaments and leagues, including baseball, basketball, football, soccer, hockey, golf, horse racing, car racing, tennis and more.
Players can get in on the action by going to Tropicana.net/sports and choosing a game to play. Current games include:
Baseball Daily Pick 5: Players select the winner of 5 baseball games each day to win an entry into the weekly sweepstakes. Weekly prizes include an Amazon Echo Dot, free overnight stays at the Tropicana Atlantic City (Sun to Thurs) and Chickie's and Pete's gift cards.
The US Open: The Grand prize winner will receive a Golf Getaway that includes 1 round of golf for two, 1-night stay at the Tropicana and an entertainment gift card.
The World Cup: Weekly Drawing for players that select the winners of the daily group stage matches. Prizes include gift cards, Amazon Echo Dots and overnight stays at Tropicana Atlantic city (Sun to Thurs).
No deposits, and no credit cards necessary, Tropicana Sports is intended for players 21+. No purchase necessary. Must be a Trop Advantage member to redeem prizes.
Tropicana Atlantic City partnered with Chalkline Sport to provide the platform.
Related Stories