By
Lewis
- 19 August 2021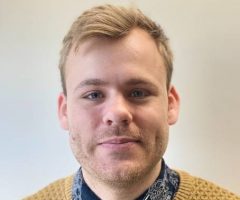 Gray Wagner, Head of Mathematics and Server Side Development, details the fundamental role mathematics plays in the game development process. Whilst art and graphics may draw a player in, Gray believes it's the maths model that makes them stick around.
Maths is undeniably one of the most important parts of the game development process. We make multiple different maths models for each game and then play them all internally to decide which one finds that important balance between giving players the opportunity to win big and making sure the game is not too harsh for a mass market player.
In some markets you only have 30 spins or so before a player tries something else so making sure the experience works in that period of time is one of our biggest goals. We're lucky to have an approachable and adaptable in-house maths team that can work with feedback and make tweaks that the commercial team or clients suggest.
I'd say maths and design are the two key pieces of the puzzle and I wouldn't say one is more important than the other. The important bit is to get them working in tandem, so the maths model matches the graphical and mechanic element of the game. This is what provides the overall experience; you can't have one that is better than the other, it is how they match up that is the key.
INNOVATIVE SCOPE
Maths is key to innovation but obviously it has constraints – we have to hit certain RTPs (or in our case for most content, multiple RTP models) and so what we can and can't do from the maths side is limited as a result.
That's what makes it fun and challenging though; we are trying to create something new and exciting but without having absolute free reign and having to work within certain guidelines. We squeeze as much innovation as we can out of the 96 per cent RTP we need to achieve, and I like to think we're pushing boundaries whilst doing it.
I think there's more to come from our maths team. Every game we produce the team learns new tricks and skills to create better models and keep things fresh. The best bit is half of their ideas are too out there so we still have those ones in our pockets for when the rest of us can catch up!
PMB
We have a particularly useful commercial innovation from our maths team called PMB (Probability of Money Back). It looks at each of our games and determines the chance a player has of doubling/trebling/breaking even (depending on their aims) in a certain number of spins.
Volatility and hit rate are not in depth enough pieces of information now that operators are so good at segmenting players. PMB, on the other hand, allows us to put forward the games that suit the player's ambition for that session. It works by looking at how much a player has in their wallet, what their goal is to walk away and then what game is best for them to achieve that session goal.
Operators are definitely getting on board and using it, it just needs to be explained to them properly. Hit rates and volatility have been the key factors operators consider since I started in the industry but for me these metrics are simply not good enough for today's discerning players.
DO PLAYERS CARE?
Players definitely care about maths. A player's favourite game rarely is due to theme or graphics, it's due to the experience received while playing the game.
This ultimately comes down to the maths, so getting the best, most suitable maths in front of the right player means they're likely to have a good experience. Art and graphics draw a player in but it's the maths model that makes them stick around. Maths is often greatly understood by developers, but I also think there are very few all-round 'great' maths models. Rather, it's about matching the player with the maths model that suits them.
We're constantly looking for innovative things to do with maths because a lot of the more basic maths models have already had a perfect game built on them over the years (either by us or our competitors) so we're hoping to tap into the players who haven't yet played the game with the perfect maths model for them.
I also think it's going to be really interesting to see how AI adds to maths in the future. We have the ability to fine tune things to a certain degree with our maths team, but to have AI being able to spin out and test thousands of slightly different models and judge which ones suit the market we're aiming for will be fascinating to watch.