By
Phil
- 4 November 2019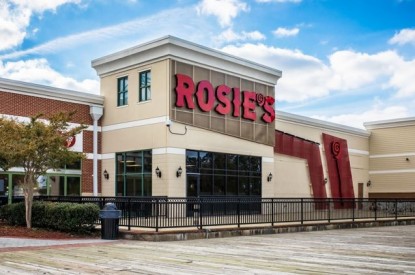 Colonial Downs Group has now opened Rosie's Gaming Emporium in in the Power Plant shopping center in Hampton, Virginia.
The $40m gaming venture offers 700 historical horse racing (HHR) machines, simulcast horse racing, a restaurant and bar, and a gift shop. Hampton, Virginia.
Colonial Downs, under new ownership by the Colonial Downs Group, a subsidiary of Peninsula Pacific Entertainment, was made possible through the establishment of Historical Horse Racing (HHR) in Virginia by the General Assembly in 2018. Revenues generated through HHR at Rosie's Gaming Emporiums now open in New Kent, Vinton, Richmond and Hampton, are generating significant tax revenues for the state and localities but are also helping to fund purses at Colonial Downs and help revitalize Virginia's horse industry.
Aaron Gomes, Chief Operating Officer of Colonial Downs Group, said: "It is very exciting to be opening our fourth Rosie's in Virginia in just one year. We are already seeing tremendous success in Richmond, in Vinton near Roanoke and at Colonial Downs in New Kent County. The Hampton location builds on our commitment to create more than 1,000 jobs and generate significant tax revenues across the Commonwealth by bringing together gaming enthusiasts, horse lovers, and the community to experience an exciting and fun activity."
Revenues generated through HHR machines, which were just legalised in Virginia last year, enabled the return of live thoroughbred horse racing to the state earlier this year. Over 36,000 spectators attended the live racing events at Colonial Downs racetrack in New Kent County and more than 15 million viewers across the nation watched and bet on the races through the TVG network.
Vincent Jordan, General Manager at Hampton Rosie's, added: "I am so pleased to be returning to Virginia where I previously served in the military to be part of this enthusiastic effort to bring fun, gaming, and economic development to the Hampton community." Jordan has 20 years of experience in the gaming industry, most recently at Mount Airy Casino Resort in Pennsylvania.
With a projected 1.2 million visitors a year, it will create approximately 200 jobs in Hampton and generate approximately $2 million in annual tax revenues for the City of Hampton and it will also represent $7m in tax revenue to the commonwealth.
Colonial Downs Group and its four Rosie's Gaming Emporiums will generate $25m in state taxes annually and has created upwards of 1,000 jobs statewide with an annual payroll of more than $36.2m.