By
Lewis
- 15 March 2021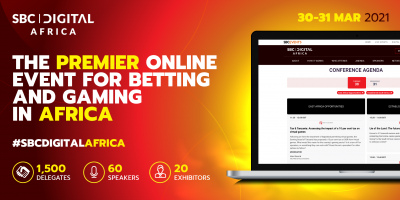 This month's SBC Digital Africa conference and exhibition is set to deliver analysis of the emerging opportunities for the betting and gaming industry across the continent and of the developments influencing the growth of its established markets.
The second edition of the online event takes place on 30 – 31 March, when an audience of 1,500 industry professionals comprising operators' senior executive teams, regulators and gaming industry lawyers, platform and games suppliers, affiliates and marketing specialists, and payments experts will gather to connect, exchange ideas and talk business.
The central feature of the event is a conference that will see more than 60 expert speakers with on-the-ground experience of working in Africa share their insights and ideas. The full speaker line-up will be announced shortly.
Day one's agenda includes the Established South Africa track, which will examine what jurisdictions across the continent can learn from the country's gambling market and the multiple challenges faced by operators in the Rainbow Nation.
It is set to include sessions about the development of safer gambling provisions, the next steps for brick-and-mortar casinos, the prospects for the regulation of live casino games, and the future of lotteries in the wake of the recent fraud allegations.
The opening day's second track is East Africa Opportunities, which will feature panels focusing on the fallout from the introduction of the virtual games tax in Tanzania, the changing betting industry ecosystem in Kenya following amendments to the betting tax regime, and the latest developments in the Ugandan market.
On Day two, attention will turn to Emerging West Africa, including a panel that examines the reasons for the popularity of betting among the 18-40 demographic in Nigeria and the player protection responsibilities that brings.
Further sessions will explore whether operators have fully identified the opportunities that Ghana's economic growth has created, and how the industry can unlock the gambling market in Côte d'Ivoire.
SBC Digital Africa's fourth track is Payments & Players, which will shine a light on some of the practical issues involved in running a successful betting business in Africa.
It features sessions about the role of retail betting outlets in local communities, the future of VIP marketing, and an evaluation of whether mobile money really is the best payment option for both players and online operators.
Rasmus Sojmark, Founder and CEO of SBC, said: "Africa is home to a number of markets that offer great opportunities for the betting and gaming industry, but the situation in those territories is changing rapidly and reliable information about the latest developments and what they mean for operators and suppliers is hard to find.
"SBC Digital Africa is a chance for companies already operating in African markets and those targeting the continent for the next stage of their growth plans to access that information, along with practical insights from some of the most experienced and influential figures in the industry."