By
William
- 29 September 2022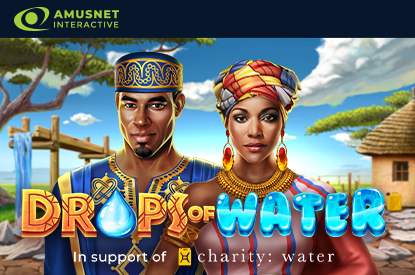 Drops of Water, Amusnet Interactive's latest slot, has been developed in partnership with charity:water that will donate three per cent of profits to initiatives in Africa and India.
Yordan Georgiev, Senior Product Manager, and Plamen Slavov, Team Manager – Game Artists, explain the significance of the pilot project and discuss the rationale for creating a slot dedicated to supporting a cause.
Could you tell us more about Drops of Water?
Yordan: Of course! Drops of Water is an online video slot that is especially developed in support of charity: water initiatives in Africa and India. It is a pilot product for Amusnet Interactive in that direction and the teams involved in the process got very inspired in creating this amazing game.
The slot embodies our company's mission and has the chance to inspire the industry for charity initiatives. The unique thing about the game is that three per cent of the profit will be donated to charity: water's projects, providing fresh water to thousands of people.
Where did you take inspiration to partner with a charity for a new slot game?
Yordan: Our true inspiration came from a video that was seen by chance. In the material, Scott Harrison, the founder of charity: water, speaks honestly about his past and his purpose to solve the water crisis in his lifetime.
We decided to look for a way to support people in need though our work. We found the solution to contribute by what we do best. This is how the idea of the game was born.
Why partner with charity: water? What initiatives is the organisation working on?
Yordan: Although it is a basic human right, today 771 million people lack basic access to clean and safe drinking water. These numbers show that the water crisis is massive and we, as a responsible company wanted to take part in making a change. We chose to partner with charity: water because of its transparent process and significant experience.
In the 16 years since its establishment, it has already helped over 15 million people in more than 29 countries. The organisation works with partners to build water systems in isolated rural areas where the majority spend hours every day walking to collect water for their families.
Did you take greater satisfaction creating a game that will contribute towards building water systems in impoverished countries?
Plamen: Yes, for sure we did! The whole team took the creation process very seriously. We wanted to design a game that reflects on charity: water's meaningful purpose.
Everyone got inspired and motivated to deliver their best. I believe the final product proves how excited the team was during the process. We are all proud to be involved in the first charity slot in Amusnet Interactive portfolio.
How closely did you collaborate with charity: water when developing the game? Was the process of developing a slot in support of a charity any different than normal?
Plamen: We were working very closely because it was very important for us to deliver a product which charity: water can easily recognise. Since the beginning we set the right expectations and kept them updated through the development process.
I believe this was crucial in creating the game because aligning with their needs, helped us work in the right direction.
How have you showcased the charitable aspect of the game through the game's design?
Plamen: The whole design is inspired by charity:water initiatives in Africa and India. Our main focus was to show the meaning of water for life in general. That's why we add water to each symbol like the wild symbol a tube which is a reference to the charity:water logo.
We designed the background of the game with an aqueduct that brings water to the dried-out vegetation and freshens all on the screen when the player gets to the Water Drops Reskin bonus.
Could you tell us more about the Water Drop respins feature?
Plamen: Yes, it is a unique and new feature developed in-house. It is triggered when five or more Scatter symbols land on the reels. Then all Scatter symbols turn into water drops for more rewards! Each water drop symbol has an amount displayed on it that can be won.
All water drops symbols are locked in place, and the player is awarded three Respins. If morе water drop symbols appear on the screen, three new Respins are added to the remaining Respins!
Does Amusnet Interactive have further charitable collaborations in the pipeline?
Yordan: Drops of Water is a pilot game that supports a cause. Until now, we have received really good feedback from our partners, the game is highly appreciated. We hope to keep this trend and reach a really large audience through Drops of Water.
And starting with Drops of Water, we have planned more activities, which reflect our culture and values and bring lots of excitement and satisfaction to our daily work too.