By
Phil
- 16 December 2015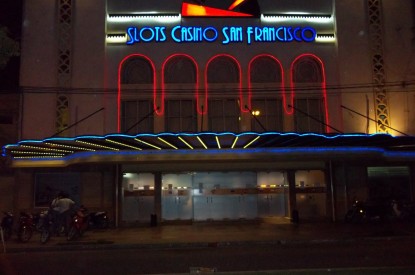 Gross revenues for the 4,000 slot parlours located in 17 cities in the province of Cordoba stood at US$140m during 2015, 31 per cent more than the previous year and 336 per cent more than six years ago.
According to statistics released by the Lottery of Cordoba (Córdoba Lottery SA), which is the body responsible for overseeing the local gaming industry, a total of $390m pesos was bet on slot machines in the city of Villa Carlos Paz the second top tourist destination in the country. This was followed by Alta Gracia ($180m). Río Cuarto ($134m). Río Ceballos ($123m), Villa María (also with $123m) and San Francisco ($100m). The lowest gross revenues were recorded in the towns of Dean Funes ($23m) and Miramar ($3.7m). The Lottery measures the year from December to November and calculated the average of the previous eleven months and added it in order to complete its annual report.
Private company Compañía de Entretenimientos y Turismo (CET) runs 19 slot parlours in 17 locations throughout the province of Cordoba and was first granted a licensed to operate in the province in 2004. The company operates around 4,000 slot machines throughout the province.
The lottery reported that for every 100 pesos that was bet on slot machines, 24 per cent goes to the Córdoba Lottery where it is distributed to social welfare programmes while three per cent is divided among the 17 municipalities where the slot machines are located. From the $1.44bn pesos generated over the last year, the Córdoba Lottery will retain around $340m and the 17 municipalities around $43.5m.
The remaining 73 per cent is generated for CET minus prizes and running costs. The company also provides an additional one percent as a fee to the municipalities where it operates.
Slot machines located in slot parlours are the fastest growing sector in gaming in the province. The province of Cordoba which is located in the geographical centre of Argentina is becoming an increasingly popular tourist destination for locals and in common with the rest of the tourist industry in Argentina has benefited from the sharp growth in the domestic tourism. The latest statistics mean that $4m pesos is gambled per day in slot machines in the province.