By
Phil
- 29 November 2018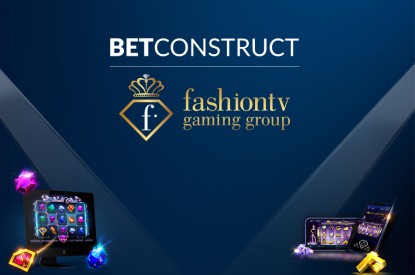 BetConstruct has partnered with FashionTV Gaming Group to combine the glamour of high-fashion with online gaming, with a new range of FashionTV branded slots.
BetConstruct has released five new branded games, as the first part of the FashionTV slot series.
New FTV Branded slot game titles include; Billionaire Toys, Fashion Club, Diamond Rush, Bikini Angels and Fashion Show, all HTML5 developed games that feature a shared progressive jackpot whilst providing an outstanding multi-platform experience. In order to increase player engagement, BetConstruct has also implemented a number of its player retention tools across all the new slots to offer a premium gaming experience.
"By bridging the gap between these two lucrative industries, we seek to usher in a new generation of online gaming that offers players the opportunity to enjoy the glamour and entertainment of a fully-branded, fully-supported gaming experience, that transcends across the virtual and real world, coupled with the exclusivity, branded items and parties of the FashionTV lifestyle" noted Sarah Psaila, Casino CMO, FashionTV Gaming Group,
"Our mission is to deliver high-quality gaming solutions as well as drive innovation. Collaborating with FashionTV Gaming Group, we created a new way for the international channel to engage its audience within the luxury lifestyle and fashion trends thematics," says Vigen Badalyan, founder and CEO of BetConstruct.
The new branded games will be available for all operators throughout BetConstruct's RNG Casino platform. Apart from that, BetConstruct keeps its expertise in gaming fused with FashionTV brand for more upcoming projects that will be reveal and ICE Totally Gaming 2019 in London.
The FashionTV Gaming Group is backed by Fashion TV, the world's foremost fashion and luxury lifestyle TV channel giant, with over 2 billion viewers from around the world. It has been formed as a unique exclusive venture between FashionTV and a group of online gaming industry experts, and is the first mover to bridge the gap between the fashion world and online gaming, revolutionising the industry by leveraging on the strength of a powerful global brand global to penetrate the crowded competitive market in new a unique way. Launching first with its branded casino, sportsbook, slots, live dealer, and social games platforms.
FTVGG holds the exclusive global license to use the FashionTV brand across all online gaming activities, including but not limited to casino, sports, bingo, lotto, poker games of skill and more and is currently in the process of creating – The 'FashionTV Gaming World'.