By
Lewis
- 27 November 2020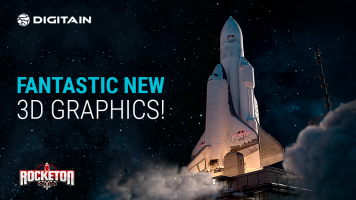 Digitain has relaunched a newly updated and redesigned classic fast game, Rocketon. The updated Rocketon features new 3D animated graphics and soundtrack.
Digitain's Gaming Product Manager, Hayk Sargsyan, commented: "Our partners and their customers love the existing version of Rocketon, it really is exceptionally popular across many markets.
"We are highly confident that the newly updated version will perform even better. The updated 3D graphics, as well as the improved customer experience, make this game a winner."
Rocketon is a combination of patience, risk and thrills, where the longer customers wait until acting the more they can potentially win. Each game begins with a rocket launch and the longer the rocket travels, the greater the multiplier to customers.
The newly updated Rocketon game is now available to play across the Digitain partner network.