By
Phil
- 21 March 2016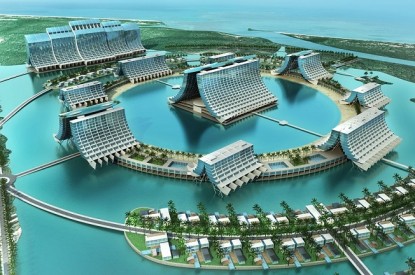 The businessman behind the proposed Aquis Great Barrier Reef Resort in Australia has signed a deal with two Chinese development companies to finance the $8.15bn project.
Aquis boss Tony Fung has brought in Chinese companies Tandellen and CCCC International Holding Limited (CCCCI).
Aquis stated: "The relationships we have established with CCCCI and Tandellen are an important milestone for Aquis' Queensland ambitions. Together we have the financial and operational capacity to undertake multiple projects in multiple locations. Our focus will remain on the tourist destinations of Cairns and Gold Coast, and we look forward to making further announcements in the future. We are continuing to negotiate with the State Government and will make any announcements when appropriate."
The proposal would be located 13km north of Cairns and would market itself to Chinese tourists and has pitched itself as being bigger than James Packer's Crown casino in Melbourne. It wants to operate 750 tables and 1,500 slots at a resort that, if approved, would include nine hotels with 3,750 rooms, one of the world's largest aquariums, a 25,000-seat sports stadium, 1,200 apartments and 135 villas, high-end retail shopping, theatres, a 13-hectare reef lagoon, 18-hole golf course, a convention and exhibition centre.
Mr Fung has cancelled plans to try and take over the Reef Hotel Casino in Cairns but has started a A$14m upgrade at his Canberra Casino with a $330m redevelopment plan currently being considered by government.