By
Phil
- 18 July 2022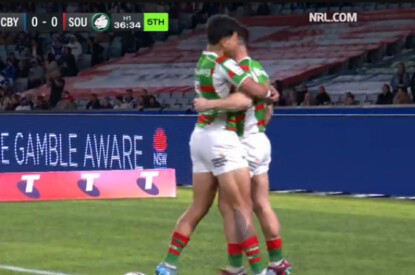 Sports betting ads were off the agenda at Sunday's NRL match between the South Sydney Rabbitohs and the Canterbury Bulldogs, with both teams saying no to wagering sponsors.
The two teams recently partnered with GambleAware's Reclaim the Game initiative, which sees sporting clubs reject sports betting advertising, challenging the normalisation of betting in sport while educating staff, players and fans about the risks associated with gambling.
Director of the Office of Responsible Gambling Natalie Wright said it is fantastic to have fans walk into the stadium and be there for the game, where both teams have said no to sponsorships and the advertising that goes with it.
"Betting companies are increasingly using sport to promote their product. Reclaim the Game challenges this and raises awareness of the risks of gambling.
"The NRL fan base is huge and gambling advertising is everywhere, including at sporting games and on TV, which means if you're a supporter you usually can't avoid seeing it," Ms Wright said.
"On Sunday fans and families got back to what the game is about – without letting a bet take them away from the match.
"It's encouraging to see an NRL match with two teams who both stepped up to say no to sports betting advertising and we're sure the Bulldogs and Rabbitohs fans appreciated the atmosphere."
Rabbitohs CEO, Blake Solly, said, "Our community plays such a big role in our club, so we felt Reclaim the Game was a campaign we could support to reduce community exposure to sports betting advertising. We believe we play a style of football that entertains everyone in the family and that there isn't the need to have a bet on the game to enjoy it," Mr Solly said. We're proud to support Reclaim the Game and their desire to effect cultural change around sports betting advertising."
Bulldogs CEO, Aaron Warburton, said Rugby League is one of the most entertaining sporting experiences on offer.
"It is a great spectacle for fans, players and staff to enjoy sport in its purest form, without any distractions or the temptation to gamble," Mr Warburton said. "It was pleasing to see Sunday's clash between two of the game's proudest clubs taking place without the presence of sports betting advertising."
While the NRL has wagering sponsorships at a code-level, as do multiple NRL teams and some stadiums, the Rabbitohs and Bulldogs have committed to eliminating betting advertising wherever they can.