By
Phil
- 15 March 2017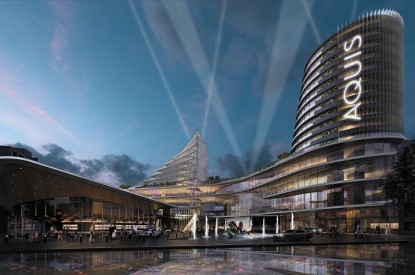 Aquis Entertainment has reported that its Canberra casino made a worsening loss of A$7.7m in 2016, as it waits for the government to approve a redevelopment plan that will see slot machines introduced.
Gambling revenue actually increased 21 per cent over the year, reaching $22m. F&B was also up reaching $2.23m for the year and spend per head was up 33 per cent. The company invested $14m in renovations in 2016 following what it said was years of underinvestment. Gaming tax paid to the government reached 23 per cent and 18 per cent in 2015 and 2016 respectively compared with four per cent year-on-year declines in previous years.
New Chief Executive Jessica Mellor said: "Strong top-line growth is a validation of the new energy we have injected into the business. We have appointed experienced leaders from around the world to lead key operational areas including food and beverage, marketing and gaming. Aquis Entertainment will continue to invest strongly in our long-term plan. Our auditors and directors all believe that the company is financially stable with performance and growth prospects in line with expectations and our business plans."
Aquis wants to invest a further $307m on the casino, in two stages over five years, including bringing slots into the venue for the first time.
Politicians want to limit the casino's slots to $1 spins and $500 jackpots, as well as mandatory pre-commitment, where players limit what they are going to spend before playing.
Aquis owner, Hong Kong businessman Tony Fung, believes there are 'reasonable grounds to believe that the consolidated entity will be able to continue as a going concern.' The company has access to a $4.9m approved but unused borrowing facility.
In a recent study, only one in five Canberrans opposed the proposed new integrated city entertainment precinct despite a vicious fear campaign by the clubs lobby group.
Ms Mellor, said she was encouraged by the results as they showed Canberrans were able to see the city-building benefits of investment in tourism and entertainment infrastructure.
"While the clubs lobby has focused enormous effort on a misinformation campaign based on a small number of gaming machines, it is pleasing to see that Canberrans have been able to see through this and have clearly understood the bigger opportunities presented by our proposal. As is the case in every other city, there is no reason why our integrated resort and modern clubs can't and shouldn't coexist in a way that increases the net benefit to the economy and the community.
"It is particularly encouraging to see that Canberrans haven't been fooled by the well-funded campaign from the clubs lobby and its candidates."
Less than 10 per cent of the floor area of the proposed development will be gaming-related, and Ms Mellor believes this is central to understanding the Aquis vision for the project and its potential.
"This is first and foremost an investment in tourism infrastructure for our growing city," she said. "Almost every other Australian city is actively pursuing integrated resort development for the same reasons we should be".
According to Deloitte Access Economics, a significant range of economic benefits will flow from the redevelopment including a $541m increase in Gross Territory Product between now and 2030, along with the creation of up to 338 new full time ongoing jobs.
This is in addition to more than 260 jobs to be created through the construction phase. The projected increase to inbound tourism is set to deliver wider-reaching benefits with the Deloitte study estimating that the project will attract up to 617,000 new visitors per annum.
Ms Mellor believes the community support grows from a sense of confidence about where Canberra is heading.
"Our population will exceed 400,000 for the first time this year. International flights commenced last month – and international investors are taking note," she said. "Canberra has a wonderful opportunity to cement itself as one of the world's best small cities, and we remain committed to playing a role in helping the city reach its full potential. It's great to know that the community also supports our vision".