By
Lewis
- 18 May 2020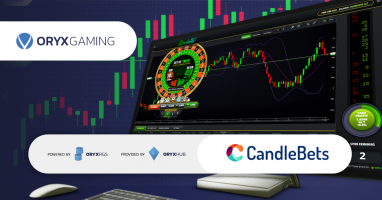 ORYX Gaming has added CandleBets as one of its exclusive RGS content providers. CandleBets is a new player in the casino space and is debuting with a unique way for players to use technical analysis to forecast and make real-time in-game predictions, merging the worlds of gaming and forex trading.
CandleBets' technology offers a new take on traditional casino games into Japanese Candlestick charts and technical indicators which allow players to spot trends and bet on them.
Whether forecasting high probability numbers in Roulette or Banker/Player trends in Baccarat, technical analysis allows players to study the game at hand with new tools and perspective.
Three games will initially be launched in July 2020 on ORYX's RGS platform and featured in a new games category called Trading Games. Titles include Roulette FX, Wall St Baccarat and Wall St Roulette.
CandleBets' dedicated and experienced team is headquartered in Australia where the company was founded in 2013 by two competitive day traders with a mission to merge the worlds of casino gaming and technical day trading.
Dr. George Muchnicki, CEO at CandleBets, said: "We are proud to have developed the world's first hybrid gaming platform that infuses the best concepts of forex trading and casino gaming to bring players a new level of gameplay, strategy and entertainment.
"By offering our content via the ORYX RGS we will be able to launch our games to a significant number of top operators around the globe and we are beyond excited to launch."
CandleBets joins Gamomat, Kalamba Games, Givme Games and Golden Hero Games as ORYX's exclusive RGS partners.
Matevz Mazij, Managing Director of ORYX Gaming, said: "CandleBets is an innovative and unique games developer and we are thrilled to add them to our RGS and offer their exciting content exclusively to our operator partners.
"With its revolutionary tools that help the player better predict the game and make calculated betting decisions, CandleBets truly brings something new to the market that will attract a wide range of players."