By
Phil
- 9 February 2016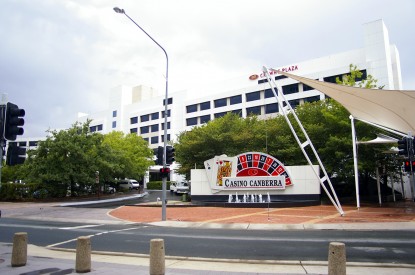 The owners of Canberra Casino will have a fight on their hands to secure the slot machines the casino has for so long campaigned for.
ClubsACT, which represents community clubs in Canberra, is trying to muster support to stop the ACT government' from succumbing to the casino's latest request for pokies.
Aquis Entertainment, the Hong-Kong-based company, who took over ownership of Canberra Casino two years wants to redevelop the venue as part of a A$330m blue print. The most pivotal parts of the proposal, which would require a change in legislation with the ACT Government, would be the inclusion of slot machines.
The plan is for Aquis to buy 670 slot machines from the city's clubs, but only 500 will be operated as 170 would be forfeited under the trading scheme rules.
ClubsACT has launched an online petition to save the current community club model, which it claims would be jeopardised if the casino operates slot machines.
The current legislation limits slots to not-for-profit operators.
Aquis believes the revamped casino could attract an extra 750,000 visitors a year, generating more than 400 jobs and increasing taxation to AU$60m a year, three huge ticks for the government.
However last year, clubs generated AU$95.8m in net revenue from slots and donated AU$12.7m to community programs and sport.
ClubsACT chief executive, Gwyn Rees, said: "ACT community clubs are not-for-profit and they plough money back locally in the form of jobs, infrastructure and grants to community groups, sport clubs and charities."
The campaign looks for support from the community, while local government still defines its position in the matter.
A government spokesman added: "The government continues to examine the unsolicited proposal that has been put forward by the casino and no position has been formed at this stage."
The redevelopment, which would take place on the adjoining land between the current casino and the Convention Centre, would include two hotels with 100 five-star hotel rooms, restaurants, bars and high-end retail outlets, as well as 12 six-star luxury villa-type accommodation. Aquis is aiming to open the restyled casino in 2018, with the highest structure being 20 storeys high.
Aquis Executive Director Justin Fung said: "It's major redevelopment of the existing casino. We're talking about luxury retail world-class food and beverage. We are talking about revitalising the southern part of Civic and creating that vibrancy that is lacking here. We would market it as an integrated resort and give people an opportunity from Sydney to come down to Canberra. It is that type of project that can be a magnet. We're looking at building an integrated resort, something you might see in Sydney or Melbourne or Perth. We don't have an intention of increasing the total number of machines in the Territory, we want to work with Government to help achieve their goals."