By
Phil
- 16 December 2016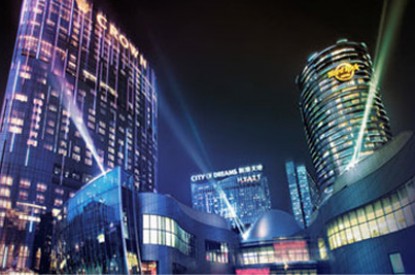 Australian operator Crown Resorts is looking to lessen its exposure to Macau and abandon plans to develop Alon casino in Las Vegas
Crown confirmed it will sell part of its share in Macau operator Melco Crown Entertainment following the arrests of 18 Crown employees by Chinese authorities.
Crown will sell a stake worth A$1.6bn to its partner in Macau; Melco International. It will also sell around 5.5 per cent of its shares in a public offering to investors worth another roughly A$300m.
Crown's stake in Melco Crown will fall from 27.4 per cent to 11.2 per cent.
Meanwhile following an extensive review of funding alternatives for the Alon project over the last two years, Crown Resorts has determined that it will not proceed with the project at this time. As a result, Crown Resorts and its partners will begin exploring alternatives to optimise the value of their investment in Alon, including an outright sale.
Crown stated: "The Sale to Melco is expected to generate proceeds of approximately $1.6bn which are intended to be used to reduce the Company's net debt by approximately $800m, fund a special distribution of approximately $500m and enable a share buy-back of approximately $300m. The Board has resolved not to proceed with the Alon project in Las Vegas at this time and is assessing options to optimise the value of from Crown's investment in the project. As a consequence of the Sale to Melco and the decision not to proceed with the Alon project at this time, the Board has also determined not to proceed with the proposed demerger of the company's international investments."
Crown Resorts' Chairman, Mr Robert Rankin, said: "These business decisions are strategic and for the long-term and will underpin the Company's future over the next decade." "Today's announcements will maximise value for the benefit of all Crown Resorts shareholders, allowing us to redeploy capital to fund high quality growth projects as well as adopting a number of capital management initiatives.
Crown Resorts has a strong portfolio of future projects, anchored by Crown Sydney, and including our online and wagering platforms. Consistent with the principle which underpinned the rationale for the proposed demerger, this transaction will enable investors and analysts to more easily evaluate the financial and operating performance of the company's high quality core Australian assets."
Crown revealed that revenue for the first 23 weeks of the year had dropped by 12 per cent compared with a year earlier across its Australian resorts because of a 45 per cent reduction in VIP play.
Alon Leisure, the company behind the Las Vegas project, remains confident that the resort will open by 2020.
It stated: "The founders and developers of Alon Las Vegas will continue to explore all of its options to advance the project and optimize the value for its stakeholders. Crown Resorts, the principal financial and strategic partner of Alon, has elected not to move forward with the Alon Las Vegas project at this time. The Alon site is the most compelling new development opportunity on the Strip. It is positioned directly across from Wynn Las Vegas and Encore and bordered by Fashion Show mall, Trump Tower and the new Resorts World Las Vegas development. Having invested two years in the program planning, design, development, pre-construction and entitlement process, the Alon resort project has been thoroughly vetted and is considered shovel-ready."