By
Phil
- 29 July 2015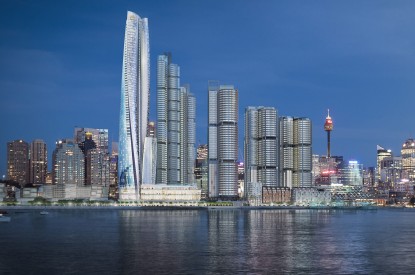 Crown Resorts used the downtime following its defeat to rival Echo regarding the award of the licence for the A$2bn Queens Wharf casino project to unveil its bold plans for its VIP casino skyscraper at Sydney's Barangaroo.
It has now submitted its blueprint to the NSW Planning Department which include a 271m, 71 storey skyscraper with six floors of VIP gaming rooms, a members club on the 24th floor and a $100m, seven storey penthouse villa.
The plans produced by architect Wilkinson Eyre also include a 350-room, five-star hotel and 66 apartments.
Crown Chairman James Packer said: "Today is an extremely important milestone for the Crown Sydney Hotel Resort. Our latest application to the department shows how much ¬architectural work has gone into designing a building that will be recognised globally and that ¬Sydney can be proud of. It's just stunning. Personally this is a very special project for me. I want to build Sydney one of the world's great six-star hotels here. The city deserves it."
The new documents were placed on exhibition last week with the public having until August 24 to give their views. The revised plans, known as Modification 8, have seen the hotel moved back onshore with its height being significantly increased. They are yet to be approved.
A Crown spokesman said the amendments were a 'necessary step for Barangaroo South, no matter how the site is being used.'
"Crown accepts if Modification 8 is not approved, then the full financial cost of these early works will be at Crown's risk. These works are permissible under [the existing concept plan] and the remediation and earthworks if approved by the Department will not limit any future use of the site."