By
Phil
- 21 August 2023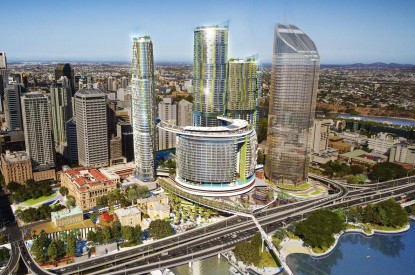 A disagreement between the owners of the AU$3.6bn Queen's Wharf Brisbane project and its primary contractor over concerning delays to the project's completion will be heard in court.
Once expected to open in 2022, the project has faced a series of delays. The Star Entertainment Group is lead partner in Destination Brisbane Consortium, the joint venture delivering the transformational development which will create around 2000 jobs at peak construction and provide 8,000 jobs once fully operational.
The Star stated: "The Star Entertainment Group notes that Destination Brisbane Consortium (DBC) (the joint venture owned 50 per cent by The Star, 25 per cent by Chow Tai Fook Enterprises and 25 per cent by Far East Consortium) has been served with an originating process in the Supreme Court of Queensland by Multiplex Constructions Qld, the contract builder for the Queen's Wharf Brisbane project.
"As previously disclosed, DBC has been in ongoing discussions with Multiplex regarding purported claims for additional costs, extensions of time and damages, which DBC has disputed. DBC also has claims against Multiplex for liquidated damages payable for delay in achieving key milestones under the contract."
"The Star understands that the claim seeks various declarations from the Court regarding extensions of time, relevant milestone dates, liquidated damages, variations and certain other matters, including potential sums payable, in connection with the contract and seeks various orders in relation to those
matters. The Star understands that DBC intends to defend the proceedings and The Star will keep the market informed upon filing of DBC's defence and any counter claims."
The integrated resort will offer a casino, five hotels, 50 bars and restaurants, 2,000 apartment, retail spaces an the adaptive reuse of existing heritage-listed government buildings. The masterplan development will occupy 12 hectares existing state-owned land, and proposes to reclaim potentially 15.3 hectares of the Brisbane River. In total, the approved development area will cover 27.3 hectares, making it the largest private development in Queensland, equivalent to 20 percent of the city centre.