By
Phil
- 21 December 2022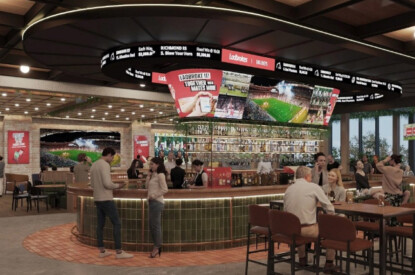 The Momento Hospitality Group's new hotel, The Star in Seven Hills, Sydney, will boast an industry first when it opens early next year, as it will be the first hotel to team up with Entain and feature an in-hotel Ladbrokes Betting Lounge.
In October Entain announced a landmark agreement with AHA NSW which would provide an opportunity for Entain Australia to promote its digital wagering brands – Ladbrokes and Neds – in the state's pubs through a new advertising and sponsorship arrangement.
Entain's General Manager of Retail, Mark Sturdy, said: "We are excited to announce our first AHA NSW venue partner and we are even more thrilled that it is Momento. The Colosimo family are legends of the hotel game. They are proven innovators in the space, and we are excited about the opportunity to bring to life our first Ladbrokes Lounge in NSW in their new venue The Star Hotel.
"The opportunity for Ladbrokes to advertise our brand to patrons in venue is a game changer for us and we expect this to be the first of many partnerships we do in this space," he added.
Leon Colosimo, owner of Momento, added: "The Ladbrokes Lounge will be a fantastic addition to our new site The Star Hotel & Stadium. We are aspiring to a new level of sports interaction and customer experience. We look forward to bringing this to life with the Entain team and activating the first Ladbrokes Lounge in Sydney."
AHA NSW CEO John Whelan commented: "Over the past 10 weeks more than 800 of the 1,050 NSW hotels with wagering sought competition and choice by reaching out to Entain. Momento Hospitality are respected as one of Australia's leading and most innovative hotel groups. This is a significant first step in the new hotel wagering environment. Our patrons are already exposed to advertising from corporate bookmakers on our pub TV screens, on the radio, in newspapers and on their phones.
"Increasingly people are choosing to bet on the races or the footy on their phones – not in the traditional retail environment. Today, most people betting on their phone in a NSW pub are placing a bet with Ladbrokes, Neds or another corporate bookmaker."
When the deal with AHA NSW was first confirmed in October, Entain Australia CEO Dean Shannon said it would work alongside PubTABs, in attracting punters who have already changed their betting habits.
"We applaud AHA NSW for their vision in agreeing to work with us to bring this partnership to life," Shannon said. "While there is still value in more traditional cash retail wagering, there is a highly engaged audience of punters who like to go down to their local for a bet with their mates, and how they do that has evolved.
"This partnership recognises that evolution and is about offering choice for the benefit of AHA NSW members and their patrons. There is no reason why traditional cash wagering can't co-exist in a hotel, alongside an advertising sponsorship arrangement with Entain that promotes the digital offering of one of our leading brands.
"Entain recognises the opportunity for us to connect and communicate with the audience inside hotels is valuable and we intend to support the operators of those venues, just as we would any other advertising channel."