By
Phil
- 25 August 2023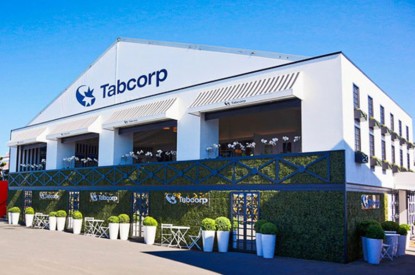 Australian betting giant Tabcorp Holdings generated revenue of $2,434m, an increase of two per cent for the 12-month period ended 30 June 2023 with Queensland becoming best performing TAB state after the implementation of a level playing field on December 1 2022.
Wagering and Media revenue for increased per cent to $2,231m, and EBITDA increased 7.3 per cent to $308m compared to 2022. The operator continued to improve its digital competitiveness with record digital active TAB customers of 805,000, an increase of three per cent, while active sport customers increased six per cent, multis actives increased 14 per cent and multi digital turnover increased 10 per cent, reflecting the launch of new and upgraded products.
The operator stated: "After the first year of our three-year transformation, we have increased total revenue market share and seen a stabilisation in our digital market share. We delivered increased digital turnover share and racing revenue market share, while 4Q23 sport yields relative to competitors negatively impacted our sport and total digital revenue market share. This is a pleasing result given the impacts in FY23 from new entrants, highly competitive generosity levels, and smaller scale operators targeting near term profitability."
Managing Director and CEO Adam Rytenskild said: "Today's earnings and record active customers highlight the successful completion of the foundation year in the TAB25 transformation strategy. We've built this foundation for growth by creating the right products, policy settings and attracting the people needed to transform our business. Our earnings, revenue and active TAB customers have all increased on last year and these strong metrics lay the platform to achieve our TAB25 ambitions.
"We are the only one of the large wagering operators in the Australian market to increase revenue and EBITDA in FY23. Our total revenue market share grew, highlighting the strength of our wagering ecosystem. Despite a distorted market which included the introduction of an aggressive new operator and increased generosity and marketing spend by competitors, our digital revenue share remained relatively stable, highlighting the strength of our new products," he added.
"The outstanding performance in Queensland highlights the confidence we have in our growth plans. Queensland TAB has outperformed the Group TAB results on almost every metric since it commenced competing on a level playing field with our competitors. I'm looking forward to having a level playing field in Victoria next year. TAB is a very different business today, compared to a year ago.
"We're delivering on what we promised. Not only has the new TAB App been launched, we've followed up with ten new product launches as we rapidly increase speed to market. Closing the product gap has been critical to the strong increase in active customers and our product team can now pivot from catching up to becoming a market leader for product innovation.
"Our retail upgrades also commenced with innovative retail fit outs underway in our biggest venues to maximise our advantage of having the only completely integrated wagering ecosystem in Australia. We will continue to invest for sustainable long term growth including rebranding TAB to a fresher, younger more innovative brand. Our new marketing campaign and branding is now live and will play an important role as we look to grow our customer base in sports betting. While there is an increased focus on sport, TAB remains the long term industry partner of racing and the wagering partner of Australia's biggest racing events, the TAB Everest and the Melbourne Cup carnival. Racing will remain the bedrock of our Company.
"In FY23 we delivered on disciplined cost management through the Genesis program. Our strong performance on cost has provided us with the flexibility to invest in the business in FY24 whilst maintaining our TAB25 opex targets of $600m-$620m in FY25. Our Integrity Services business continued to perform strongly in FY23 and remains a high quality and valuable business. The commencement of the new Tasmanian monitoring licence from 1 July this year, highlights the increased opportunities for Integrity Services in a more tightly regulated environment.
"Today's results show we have achieved the FY23 goal of laying the foundations to achieve our TAB25 targets. We've reshaped the business and delivered structural reforms to bring customers market leading offers, pricing and products that deliver the ultimate customer experience while creating a simpler, more valuable growth business for our shareholders," he concluded.

Tabcorp was recently awarded a new 20-year licence to monitor Electronic Gaming Machines in Tasmanian pubs and clubs, which was successfully implemented and commenced on July 1 2023. The sale of MAX Performance Solutions further simplifies its Gaming Services business and continues the transition to an Integrity Services business.

.

.