By
Phil
- 6 June 2023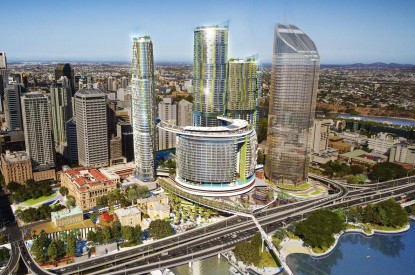 Australian casino operator Star Entertainment is delaying the opening date of its Queen's Wharf casino project in Brisbane until April 2024.
The Destination Brisbane Consortium (DBC), the privately-owned and operated joint venture between
The Star and its partners Chow Tai Fook Enterprises and Far East Consortium, advised a
'change to the expected opening date of the development.' Following a review of the current construction progress, the DBC Board has amended the delivery timeline, with opening expected to commence from April 2024.
The Star's Group CEO and Managing Director, Robbie Cooke, said: "The revised opening date follows careful consideration of current progress by our builder. Queen's Wharf has not been immune from the types of pressures that other major infrastructure projects across Australia have encountered."
"We are disappointed, but this transformational development for Brisbane has been eight years in the making already, and it will be well worth the wait. Queen's Wharf will be a game-changer for a city that continues to attract the eyes of the world as we charge towards the 2032 Olympic and Paralympic Games."
The Star is pleased to announce it has "received the keys" to several dining, entertainment and gaming areas on Levels 5 and 6 of the resort, representing the first handover of control for an area within the construction precinct, from building contractor Multiplex.
This milestone provides The Star, as the operator, the opportunity to commence bump-in of the respective areas. The handover occurred on Friday, 2 June 2023.
The third and final Sky Deck bridge section was moved into place on Friday, 2 June 2023, allowing the Sky
Deck lift and connection to take place in the coming weeks. The completed Sky Deck will connect all four towers of the Queen's Wharf development and signify a further milestone in the project's progression. The Sky Deck will showcase a 250-metre open-air rooftop runway of bars and restaurants, provide
panoramic views from 100 metres above the Brisbane River and have capacity for up to 1,500 people.