By
Phil
- 21 November 2019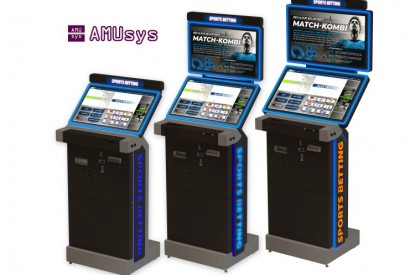 Austrian sports betting terminal manufacturer AMUsys is celebrating 20 years in business with the launch of its latest range of AMUsys sports betting terminals; the Touch4Bet.
Otto Kraus and Peter Platzer founded AMUsys back in 1999, foreseeing the need for a specialist sports betting terminal manufacturer. Sports betting has grown to become a major sector in the gaming industry and is indeed still booming in several countries. Sports betting providers often wish to focus their expertise on their core competency; the betting software. Teaming up with AMUsys enables these providers to offer land-based solutions.
It is perfect timing for the release of the . Three brand new Touch4Bet terminals are available – either with one 24" monitor, two 24" monitors or even two 27" monitors. The stylish, eye-catching design is typical AMUsys and one of the reasons for the company's enduring success. The AMUsys team knows exactly what it takes to make what the industry needs. Customers can even have their own illuminated branding on the machine side as well as LED strips that can be programmed to match the customer requirements. AMUsys stands for outstanding quality. The terminals are built to last and AMUsys makes use of high-quality components that are then fitted throughout the product range.
Otto Krauss of AMUsys said: "Sports betting is a great pastime and we foresaw the number of software providers growing back in 1999. That is why we founded AMUsys to provide the hardware for these software experts. The requirements are very specific and we are recognised for our in-depth expertise. Our latest Touch4Bet portfolio offers optimal security, top quality, wide-screen monitors and much more,indeed everything a sports betting terminal should be, with the stylish design to match".