By
Phil
- 15 July 2016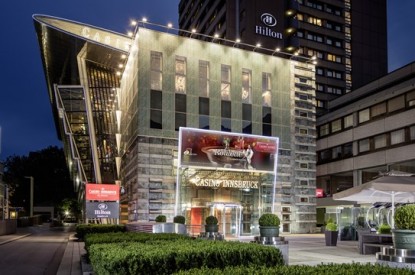 Clear growth at the 12 Austrian casinos and the online platform win2day, continued high performance for lottery games and a further improvement in results at Casinos Austria International.
The Casinos Austria and Austrian Lotteries Group achieved extremely positive results in the first half of 2016. Director General Karl Stoss said: "Clear growth in sales was achieved in many areas, and with excellent results for all group companies and segments, we are confident that we will close the 2016 business year with record sales and profits. These results can be attributed to the fact that we have clearly made the right investments in our casinos and products in the past months, that we have improved our gastronomy portfolio and that we are also reaching a larger online community with our increasingly mobile gaming offer."
The 12 domestic casinos further improved on their already high performance in 2015 – both in terms of revenues and guest numbers. In the first half of 2016, they posted revenues of €155.76m, an increase of eight per cent compared to the same period in the previous year. 1,444,353 guests visited these casinos from January to June 2016, 6.5 percent more than in the first six months of 2015. And the 12 Austrian casinos also confirmed their growing relevance as leading tourist destinations. Over the last 18 months, half their guests have been international visitors. By way of comparison: five years ago the share of international visitors lay at only 40 per cent.
Casinos Austria will be investing around €36m in 2016 in its domestic casinos. A large part of this sum will be used to replace around 1,000 of its 2,100 slot machines and to connect all these machines to the Austrian Federal Computer Center by the end of the year. A relaunch of Casino Graz and redesign of its restaurant is also on the agenda for the current business year. At Casino Salzburg, where the completion of much of some major renovations was celebrated in March, further investments will be made throughout the year – primarily on the building's exterior. And the restaurant in Casino Velden has also only recently reopened following a complete redesign.
The group's gastronomy subsidiary, Cuisino, which has already been recognized with four Gault Millau toques, will continue its strategy of redesign and growth throughout the year. It has, for instance, been managing the bar in the newly-opened Casino Zell am See since April 2016 and is thus now represented in eleven of Casinos Austria's twelve domestic casinos – and with great success: building on its strong growth in the previous year, Cuisino posted a 22.4 per cent increase in revenues in the first half of 2016.
Austrian Lotteries and its win2day and WINWIN subsidiaries likewise achieved record sales in the first six months of 2016. Total sales for the period lay at €1.67bn, up 12.3 per cent year-on-year. The online gaming platform win2day posted particularly strong growth, with sales up by 24.2 percent to €778.5m. Alongside the popular launch of a number of new games, the site's Poker Room underwent a very successful relaunch, while results for the classic casino games – where three new slot games were introduced – and sports betting were significantly higher than in the same period in 2015. The very positive reception of win2day's enhanced and expanded mobile games portfolio was particularly gratifying: win2day currently has 870,000 registered users and generates more than a quarter, 26.5 per cent to be precise, of its sales via mobile devices like tablets and smartphones.
Sales of Austrian Lotteries classic lottery products for the period lay at €650.7m and thus remained at almost exactly the same very high level as the previous year, whereby sales of the EuroMillions lottery product were up by 10.6 per cent year-on-year to €159.2m and sales of the Lotto "6 aus 45" national lottery product were down by 5.1 percent to €294.4m.
The trend at the WINWIN video lottery terminals outlets was also positive in the first six months of 2016. WINWIN has now overcome the hurdles of the increased regulatory requirements (mandatory registration of all guests since 1 January 2015; access only with a player card) and is identifying increasing acceptance of the player card among its guests. The opening of the three new outlets in 2015 in Linz-Urfahr, Schwaz and Wiener Neustadt and the 16th WINWIN outlet in Wels earlier this year also had a positive impact on sales in the first six months of 2016, with WINWIN posting a 14.5 per cent increase in sales to €241.2m.
At the sports betting subsidiary tipp3, the first half of the year was of course characterized by the UEFA EURO 2016 Football Championship. More than 700,000 bets were placed during EURO 2016, essentially adding a 13th month to tipp3's sales figures. Betting frequency at the 3,500 tipp3 sales outlets was very high, with tipp3 attracting a significant number of new customers especially in the mobile sector – during EURO 2016, the share of new customers accounted for 46 per cent of all digital bets.
There was also good news to report from Casinos Austria International (CAI), even if the complex consolidation processes and currency calculations mean that no precise figures for the period are as yet available. In general, all CAI operations continued their positive course in the first six months of 2016. Results in Canada, Hungary and Switzerland were considerably higher than in the same period in 2015, and the trend at the operations in Brussels and Lower Saxony (Germany) also remains very good. The at times very difficult tax regulations and frameworks in some markets have also improved, which will also facilitate further progress. Based on current figures, CAI expects to close the 2016 business year not only with a positive operating result but also with a clearly positive consolidated net profit.
Innovation is an essential success factor for the entire Casinos Austria and Austrian Lotteries Group. Recurring events like the annual Innovation Day or the Innovation Breakfasts held several times each year serve to generate new insights and ideas and foster knowledge exchange across the group. At the start of 2016, the group launched its new Innovation HUB platform for interdisciplinary cooperation, marking the launch with a major innovation competition – the "Awesome!ness Challenge". The winning project, an innovative approach to gaming, and a number of the other projects submitted in the competition will now be realized in practice and will thus become a reality.
To highlight the economic impact of the Casinos Austria and Austrian Lotteries Group in more detail, the Economica Institute of Economic Research was commissioned to carry out a comprehensive study. The authors, Markus Fichtinger, Christian Helmenstein, Felicia Kerschbaum and Anna Kleissner, have now presented their analysis for the 2015 business year.
With a total expenditure of €555m nationwide (654.5 million euros in total), in 2015 the group made a direct contribution to value added in Austria of 327.4 million euros. When the effects triggered along the upstream value chain and through so-called income effects are also included, the total gross contribution to value added comes to €587m. With every euro generated in the group, a further 79 cents in value added are thus triggered in Austria. The direct, indirect and induced contribution to value added by the Casinos Austria and Austrian Lotteries Group is thus higher than the value added of aviation or the travel agency sector in Austria.
The Casinos Austria and Austrian Lotteries Group currently employs 2,744 people in Austria. Through its relationships with domestic suppliers and consumption effects, the group creates or safeguards a further 3,762 jobs in Austria. As a result, the group protects a total of 6,506 jobs in Austria.
The Casinos Austria and Austrian Lotteries Group has always been one of the country's largest taxpayers. The group's activities contributed a total of €694.2m to tax revenues in Austria in 2015. Its fiscal contribution was thus, for instance, higher than the sum of the stability (bank tax) and air travel levies (total: €686m).
€252.6m of the total taxes and duties paid – which corresponds to a share of more than 36 percent – were attributable to concession fees, while gaming tax at €172.5m accounted for around a quarter of the total fiscal contribution. Around 14 percent of the total fiscal contribution was attributable to direct salary-related taxes and social security contributions. Sales tax and the tax on casinos each accounted for approximately 8 percent, while the remainder was attributed to indirect and induced salary-related taxes and social security contributions, corporation tax, the betting fee and other taxes.
The group's investment activity is also of great relevance: in the ten years from 2006 to 2015, the Casinos Austria and Austrian Lotteries Group made investments to the sum of €259.2m. These direct investments triggered total value added effects in Austria of €159.9m.