By
Phil
- 12 May 2017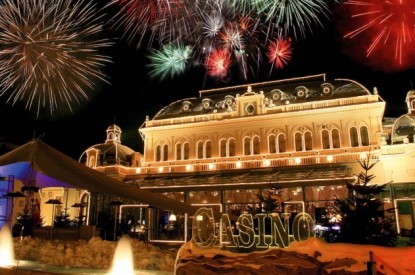 Casinos Austria and Austrian Lotteries Group have just posted the best financial year in their 50-year corporate history.
In 2016, the group posted increases in revenues in all its business units. This led to an eight per cent rise in group revenues to a record €3,885.95m. Sustained investments in improving and extending its portfolio as well as measures to improve efficiency also led to the group achieving clear increases in results: operating results rose by 49 per cent to €150.1m, while group consolidated results were up by 65 per cent to €91.2m.
There was also cause for celebration among customers and guests, who together took home total winnings of €2.7bn, a rise of 11.3 per cent compared to 2015 and yet another historic high.
Visitor numbers at Casinos Austria's 12 domestic casinos were up by 10.6 per cent in 2016 compared to the previous year: together, these casinos welcomed a total of 3,009,946 guests, more than half of whom were international visitors. This led in turn to a strong rise in gaming revenues, which were up 5.2 per cent year-on-year to €326.83m.
Casinos Austria's gastronomy subsidiary also celebrated growth: eight Gault&Millau toques make Cuisino the most-decorated gastronomy firm in Austria, and with €17.07m in sales, business was also clearly booming – up by 12.67 per cent compared to 2015.
Casinos Austria invested some €38m in 2016 in the development and equipping of its casinos in Austria. More than 1,000 new slot machines from 11 different manufacturers with a total value of €16m were installed and have been in operation since 1 January 2017. Phase two of the renovations at Casino Graz were completed in 2016 with the relocation and redesign of the restaurant. In Casino Velden, the "Die Yacht" Cuisino Restaurant was opened after a record renovation period of just one month. The extensive extension and conversion measures at Casino Salzburg were likewise completed: the new Casino Lounge created in the course of the renovations opened for business, the restaurant area was extended, and the roof was completely restored. In July 2016, a further construction project was finalized at Casino Bregenz, namely the summer terrace at the "Falstaff" Cuisino Restaurant with its new, illuminated Cloud Bar. Last but not least, the main gaming room on the ground floor at Casino Kitzbühel was also modernised.
The 2016 anniversary year brought a new record for gaming revenues at Austrian Lotteries: at €3.352bn 8.7 per cent more than in the previous year – gaming revenues hit an all-time high in the company's 30th anniversary year. Earnings before taxes at €77.8m and a profit for the year of €67.7m mark two further record results.
With the continued development of the electronic lotteries on win2day.at, the online gaming site clearly hit a sweet spot with its customers. Product launches in the Casino Games section and the continued expansion of the mobile services led to a 17.8 per cent increase in gaming revenues to an all-time high of €1.539bn.
Significant improvements in results were also achieved at the video lottery terminals (VLT) subsidiary. The new WINWIN outlets in Linz Urfahr, Schwaz, Wiener Neustadt and Wels/Stadtplatz opened in 2015 and 2016 contributed to a growth in VLT gaming revenues for the reporting year of around 10.8 per cent to €499.5m.
Classic lottery product sales were down slightly compared to the previous year by 1.5 percent to 1.31 billion euros. Sales of the EuroMillions product were up by 2.6 perc ent thanks to an extensive relaunch, higher starting jackpot and new formula, the Joker product recorded a 1.9 percent growth in sales, while the Brieflos break-open tickets posted a positive rise in sales of 3.8 percent. The Lotto "6 aus 45" national lottery remained the flagship product, generating gaming revenues of €595.8m, a 3.2 per cent drop year-on-year.
Casinos Austria International (CAI) succeeded in more than quadrupling its operating earnings from €8.01m in 2015 to €34.79m in 2016. This can be attributed to a significant improvement in results at several operations, most notably the casinos in Sopron (Hungary), Lower Saxony (Germany) and Canada. With revenues of €126.37m, consolidated results for the CAI Group were also back in the black for the first time since 2009 at €9.1m. Even when adjusted for one-time extraordinary balance sheet effects to the amount of €8.1mfor taking a partner on board for Casino Sopron, this still leaves a healthy plus of €1m.
Since its operative turnaround two years ago, Casinos Austria International has also begun taking on new projects in the form of management contracts and so-called token investments. These include the opening of a casino in Batumi, Georgia, and the entry into the Macedonian market. Since its founding in 2014, the National Videolottery of the Republic of Macedonia has successfully rolled out 80 percent (1,038 terminals) of the planned 1,300 video lottery terminals.
"We really did our homework thoroughly, have a great team of highly dedicated employees with extensive know-how and a clear focus on customer and service excellence, and have built a remarkable group of companies of which the former and the new owners, above all the ÖBIB Austrian state holding company, can be really proud," said Director General Karl Stoss. The state has since not only enjoyed continuous dividends, it has also received over €5.5bn in tax contributions from the group over the last ten years.