By
Lewis
- 15 July 2020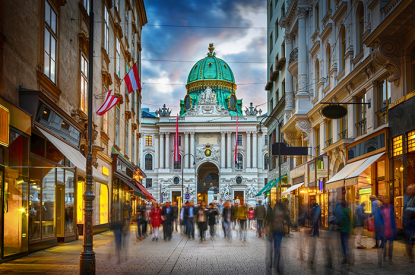 Austria is a shining example of how the Coronavirus pandemic should be handled and it was one of the first countries to emerge from a month long strictly enforced lockdown. Austria's first Coronavirus case was reported in late February and a nationwide lock down began on March 16 when public spaces were off limits although exercise was permitted with family members. All bars and restaurants and non-essential retail outlets were closed.
Due to the early reaction the number of new daily infections has been falling consistently since the end of March. By July 7 there were 18,421 confirmed Coronavirus cases and 706 deaths (worldometers.info). Non-essential shops and hardware stores re-opened in mid April whilst during May Austria began its de-escalation phase of gradual, secure and monitored re-opening. Bars, restaurants, ice cream parlours and museums for example re-opened on May 15 and accommodation facilities and recreational operations re-opened on May 29.
As lockdown was enforced more than 35,000 job losses were registered on March 15 alone which had increased to a total of 504,345 people unemployed by the end of March. The number of those employed in April this year was 164,000 lower than those in April 2019. A total of 66,200 companies in the entire industry and construction sector usually see a turnover of more than €45bn whilst last year Austria had an unemployment rate of 4.6 per cent. In June 2020 this rate was 11.5 per cent with half a million out of work by the end of May.
The country provides a comprehensive system of social security and welfare schemes operating at two levels – firstly with the principle of insurance providing cover for all employed people and dependents in terms of sickness, unemployment and pensions and secondly public welfare benefits available to citizens in need not covered by the insurance system.
A Corona Short Time Working scheme has been implemented for companies economically affected by the pandemic which reduces the working hours of employees in a company for a period of time to help prevent redundancies.
Meanwhile the borders to neighbouring countries were opened on June 4 although cross border travel is discouraged or impossible in some cases and medical certificates are required from those entering Austria. Austria is also one of the first countries to implement nationwide COVID-19 testing for travel and tourism employees by July 2020.
Austrian Airlines resumed flight operations in mid June and up until that point the three airports in Vienna, Salzburg and Innsbruck operated with a limited flight plan. Tourism is an essential part of the Austrian economy and contributes around 16 per cent to the GDP. There are around 65,000 accommodation establishments and 1.13 million beds available. Tyrol and Salzburg have the largest number of accommodation places.
Last year saw 46.1m arrivals with 152.6bn overnight stays and the direct added value of tourism was worth over €26bn. The highest number of visitors are from Germany and the Netherlands. The first two months of the winter season in November and December 2019 saw 17.4m nights registered. The summer season (May to October 2019) saw 78.9m overnight stays with 25.5m arrivals during that same period.
The COVID-19 virus has obviously had a huge effect on tourism data. In March alone the number of nights spent in Austrian accommodation establishments fell by almost 59 per cent to just 6.1m – compared to March 2019 where figures were almost 15m. Meanwhile the number of arrivals fell by almost 68 per cent to 1.3m. In April the number of overnight stays dropped by 96.5 per cent to 287,000 compared to April 2019 figures of 7.92m.
The number of nights spent in Austria between January and April 2020 has fallen by almost 25 per cent to 42.3m and the number of arrivals has fallen by 32 per cent to 9.97m. The tourism hotel and gastronomy sectors alone employ more than 500,000 people. The decline is mostly down to the closure of accommodation facilities and borders since March.
THE GAMBLING SECTORS
In September last year the Financial Organisation Reform Act was passed with effect from January this year. This means there are now only two tax administration offices in Austria – the Tax Office Austria and the Tax Office for Large Enterprises plus an Anti-Fraud Office. The supervision of gambling and gambling licences holders now falls under the remit of the Tax Office. Some powers of authorisation still remain with the Ministry of Finance.
Gambling is regulated by the Austrian Gaming Act (GSpG) whilst slots (outside of casinos), betting and horse race betting activities are regulated by the federal states and their regional laws in each province (Bundesländer). Casinos are operated via Casinos Austria and the lottery and VLTs are run via Austrian Lotteries Group (Österreichische Lotterien), both monopoly situations.
Casinos opened in Austria back in 1934 when Baden, Salzburg and Kitzbühel opened their doors. In 1967 Österreichische Spielbanken AG (renamed Casinos Austria in 1985) was established and this company took over the operation of the casinos and has held the sole concession in Austria for casino operations ever since. There are three additional landbased casino licences provided for in the law which have yet to be put out to tender.
Casinos Austria currently has 12 casino licences for venues in Baden, Bregenz, Graz, Innsbruck, Kitzbühel, Kleinwalsertal, Linz, Salzburg, Seefeld, Velden, Vienna and Zell am See. In total they operate 2,188 slot machines, 207 Easy Roulette terminals, 30 Stadium Game terminals and 241 table games. The casinos hosted around 600 poker tournaments last year dishing out around €3m in prize monies, whilst there are a total of 2.2 million visitors last year and the company employs around 1,700 staff.
It's been a tough couple of years already for the casinos. A smoking ban for restaurants, cafes and bars came into effect in Austria from November 2019 and this was expected to have a negative impact during 2020 in the casinos and WINWIN outlets.
After Corona lockdown restrictions were lifted the casinos re-opened on May 29 with full hygiene measures in place. The company has adopted the motto: "Luck is Back" and with restricted operations initially. Social distancing is enforced on the gaming floor and masks are optional.
The group (Casino Austria and Austrian Lotteries) saw a total GGR in 2019 of €1.35bn of which Casinos Austria saw a GGR of €321.6m (an increase of 2.4 per cent on the previous year) and paid out €98.9m in gaming related taxes and fees. The group is one of the biggest tax payers in Austria.
Casinos Austria's subsidiary companies include Casinos Austria International, Austrian Lotteries, win2day, tipp3 and WINWIN.
The WINWIN locations also re-opened on May 29. These are also operated via the Austrian Lotteries group and the first outlets opened in 2004. At the end of 2019 GGR was up 6.7 per cent on 2018 figure with almost €45m at 20 WINWIN outlets open that year.
Usually WINWIN outlets are open 364 days a year and admission is free. Players must be 18 and over and have a WINWIN card to play. Each outlet houses between 12 and 50 VLTs with over 80 games on each. Price of play starts at 10c and prizes up to €10,000.
Meanwhile the lottery games returned to the television screens on May 10. Lotto, LottoPlus and Joker were the first to be reinstated after the live broadcast of the shows were suspended because of the virus. There are over 5,000 lottery sales outlets and a GGR of €817.7m in 2019 and €455.4m paid in gaming taxes and fees in 2019.
Two new games, Lucky Day and TopTipp were added to the lottery portfolio last year. Plus they rolled out 3,000 new multi media terminals in November last year. The tender to produce the new terminals was awarded to KEBA AG in Austria which had produced the earlier versions of the terminals.
Austrian Lotteries offer a range of games including Lotto 6 out of 45, Euromillions, Joker and Toto with Torwette football pool, Rubbellos scratch-off cards and Brieflos break open tickets. In 2019 414 customers won prizes of more than €100,000 whilst 45 won over a million euros.
SPORTS, ONLINE & SLOTS
Sports betting is regulated via each of the nine Austrian provinces with their own local betting act and regulatory authority. Similarly slots outside of casinos are also regulated at this level and not all states allow slots.
The three main sports betting operators are Interwetten, tipp3 and Admiral.
Tipp3 has 3,122 sales outlets and the licence to operate sports betting for all nine Austrian states is held by Österreichische Sportwetten Gesellschaft.
This company was set up in 2000 and is now the leading sports betting operator with around 6.3 million TIPP3 betting slips placed on average each year. Bets can be placed in retail outlets, via the app or online.
Other big player is Novomatic which operates more than 200 Admiral sports betting and gaming branches throughout Austria. Novomatic operates around 2,244 gaming devices at 148 locations in Austria whilst total revenues for this market amounted to €356.3m in 2019 made up of €66.4m from gaming technology and €289.9m from gaming operations. Gaming machine revenues in 2019 amounted to €146.3m.
Admiral sports betting and gaming branches re-opened their doors on May 29 and a company statement said: "It is of primary importance for the Austrian gaming and sports betting provider to guarantee safe betting and gaming in a familiar and comfortable atmosphere. Admiral has therefore introduced an extensive catalogue of protective and hygiene measures to safeguard customers and employees. These range from free protective masks and disinfectants for guests to appropriate protective equipment such as glass visors and gloves for its approximately 1,500 employees.
"All surfaces, as well as betting terminals and gaming machines, are regularly disinfected. Also partition walls have been erected between the gaming machines. In addition, all necessary measures have been taken to also ensure the minimum distance between guests at the tables in the hospitality areas."
Online betting is regulated only in a few federal states and taxation is two per cent of the stakes for both landbased and online betting. However, a licence for online betting can only be applied for if the server of the operator is also located in the respective federal state.
Despite this, online gambling operators are increasing their presence in Austria. This is particularly so because there have been considerable disputes for many years as to whether the gambling monopoly in Austria is contrary to European Union law. Many of these operators, which are licensed in other EU member states, already comply with high standards of player protection and pay 40 per cent gambling tax in Austria.
There are calls for a new online sports betting regulation to create a nationwide uniformed legal framework for the online and betting sectors with uniformed licensing systems. There are also calls to set up an independent supervisory authority which will replace the Ministry of Finance role.
Win2day is the online gaming platform offering a range of products from casino games, lottery products, poker, bingo and sports betting. There are over 1.15bn users on the win2day.at website. GGR for the electronic lotteries via the win2day site were up by 20 per cent to €92m last year. Since May last year new Click&Win games have been integrated into the gambling mix. Online gambling pays a tax of 40 per cent on GGR. Meanwhile only Austrian Lotteries has a national licence to operate online gambling in Austria.
Slots have always been subject to tough restrictions. They have a maximum stake of €1 and payout of €1,000 and can not be played simultaneously. After two hours of play the machine will shut down automatically and there are requirements on distancing between gaming halls with a limit on machines per site – 10-50 machines in gaming halls and between one and three in restaurants. Slots pay 10 per cent on net gaming revenue plus municipal fees.