By
Phil
- 7 September 2016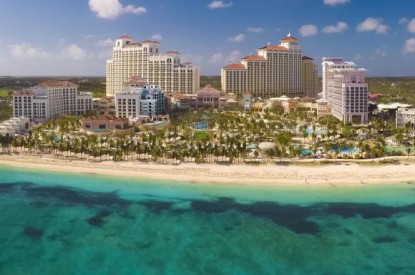 The Bahamas Government of Prime Minister Perry Christie has confirmed that agreements are now in place to complete the stalled US$3.5bn Baha Mar casino resort at Nassau's Cable Beach with government officials aware of who is trying to buy the project.
Baha Mar ran into problems almost two years ago towards the end of its construction when its owners attempted to put the project into administration.
Baha Mar's original developer Sarkis Izmirlian reacted angrily to the news that EXIM would be involved saying 'they were the reasons Baha Mar failed to open on time by not completing construction.'
PM Christie said however: "The Export-Import Bank of China has committed to funding the costs to finish the project, and the general contractor, China Construction America -CAA (Bahamas), a division of China State Construction Engineering, will complete the outstanding work. EXIM will pay a significant part and possibly all of the project's outstanding debt, including workers' unpaid salaries, severance pay and accrued vacation pay."
The Prime minister led a delegation to London at the start of September to meet with the anticipated buyers. Whilst no one has been named, Genting has been strongly linked with Baha Mar.
Mr. Christie said: "We were informed as to the company itself, it is obviously multi-faceted in every which way, it's a conglomerate. We are unable to speak at this stage as to who they are because again negotiations are taking place in Beijing and in Hong Kong and for that matter elsewhere with respect to an agreement being arrived at – the EXIM Bank, the importance of us participating as much as possible and insofar as knowledge of what is taking place so that we are in a position at all times to protect the interest of our country."
"We are well-advised by the best of the best when it comes to law, we are not taking anything for granted. We are taking maximum steps to protect the best interest of the Bahamian public, particularly those who were working, those who were sub-contractors and those who had franchises in the Baha Mar complex."
Mr Christie had previously said it was looking for a 'word class casino operator' who must have its 'skin in the game' by investing money into the project.
"We, the Government, have made it clear that the casino, convention centre and their respective hotels must be operated by world class specialists, who must either have equity in the project or make significant capital contributions to the project," he said.
Some analysts have translated this statement as meaning that the China Export-Import Bank will have to open Baha Mar alongside casino and hotel partners.
Mr. Christie added: "The suggestions that the Government has provided unusual concessions to conclude this deal are not true. Most countries provide concessions to attract and encourage investment. Trade agreements contemplate concessions. Our laws provide for concessions to all investors. This outcome is good for the Bahamas and great for Bahamians."
Related Stories