By
Phil
- 2 March 2023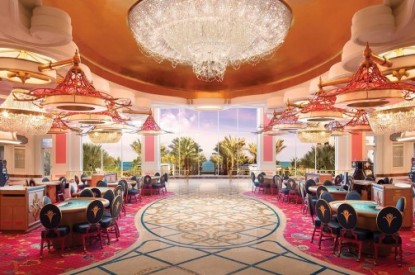 Baha Mar, the leading luxury resort in The Bahamas, is pleased to jointly announce a new partnership between Quick Custom Intelligence (QCI) and Baha Mar Casino.
Beginning February 21, 2023, current casino slots will be updated with the new QCI Platform, offering best-in-class technology that enables fully coordinated activities across operations. The data-driven software will optimize Baha Mar's gaming product by understanding player interaction at a deeper level, which machines perform best, and improvement across machine performance. QCI Slots is currently being deployed throughout the property and the casino operations team will begin training soon.
The Baha Mar Casino, the Caribbean's largest and most luxurious casino with floor-to-ceiling windows overlooks sparkling turquoise Bahamian water. Designed for gaming of every level, from casual players to high-stakes rollers, the Baha Mar Casino offers a perfect combination of thrilling energy and sublime luxury, as guests partake in 18 different types of table games, over 1,000 slot machines, and live sports betting by William Hill.
"We're thrilled to roll out the new QCI Platform across our slots at Baha Mar's Casino," said John Zaremba, SVP of Casino Operations for Baha Mar Casino. "QCI's Platform is going to make a huge impact in our operations and will give us the tools to make strategic decisions on how to improve the gaming experience all around."
Dr. Ralph Thomas, CEO of QCI, stated that "Baha Mar Casino's decision to select the QCI Enterprise Platform shows the importance of continually developing products that truly fit our customers' needs. We are honored to have Baha Mar Casino join the QCI Community, adding to the more than 100 casino resorts and over 4,000 users actively using our platform."