By
Phil
- 9 January 2015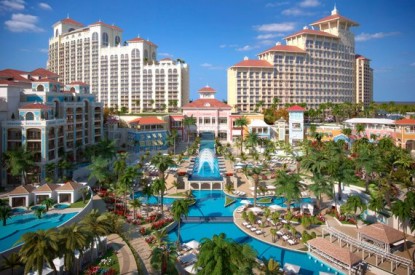 Baha Mar, the new $3.5bn resort, will introduce a new era of luxury, glamour, gaming and excitement to The Bahamas when it begins hosting paid guests on March 27, 2015, at Baha Mar Casino & Hotel, Rosewood at Baha Mar and SLS LUX at Baha Mar. Grand Hyatt at Baha Mar will open shortly after.
"Baha Mar will bring a new level of sophistication and resort experience to one of the most sought-after travel destinations in theCaribbean with its March 27 opening. We are thrilled to welcome our first guests to 'The New Riviera' in time for the peak spring travel weeks," said Paul Pusateri, chief operating officer for Baha Mar.
Baha Mar will feature 2,200 luxury guest rooms across four hotels – Baha Mar Casino & Hotel, Rosewood at Baha Mar, Grand Hyatt at Baha Mar and SLS LUX at Baha Mar – along with the Caribbean's largest casino, a 100,000 square foot masterpiece featuring a full array of the latest slots and table games. In addition, the resort's TPC at Baha Mar Jack Nicklaus-designed golf course, ESPA spa, pools, beach experiences, and many restaurants and luxury shops will be part of the highly anticipated resort experience upon opening.
"A dream starts great endeavors, but it is only a beginning. Baha Mar's vision will truly come to life once the first guests sleep in our hotels, dine at our restaurants, snorkel at our reef, lounge at our Cabana Club, play at our casino, dance in our clubs until dawn—and experience the true soul of The Bahamas with impeccable service and joyful hospitality. This dream has been years in the making, and on March 27, 2015, it will finally become a reality," said Tom Dunlap, Baha Mar's president, about the resort's opening date announcement.
Baha Mar also recently launched a new digital campaign with its short-film, 'The Voyage,' that debuted on an updated website (www.bahamar.com) on January 5. Capturing the iconic ambiance and travels that inspired Baha Mar, the film portrays the resort's future as the world's next great destination. The new Baha Mar site also allows for enhanced hotels and amenity research, comparison and booking, making it easy to plan a memorable stay at the mega resort.
After years of planning and building, it is not surprising that Baha Mar has a series of opening celebrations, including a Ribbon Cutting Gala and a Grand Opening Event scheduled for April and May 2015, respectively. Produced by Jamie King and Emilio Estefan, two of the leading names in music and entertainment—the events promise to be a celebration of sophistication and style spanning several days and combining both private and public festivities. Baha Mar will also kick off Riviera Summer, a four-month celebration with entertainment events from Memorial Day weekend to late September.