By
Lewis
- 19 November 2020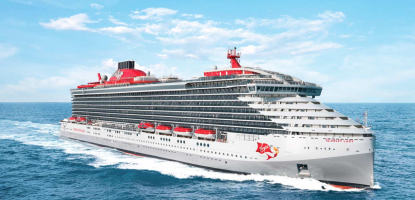 On March 2, 2020, Virgin Voyages cancelled its elaborate New York launch celebration for its Fincantieri-built, Scarlet Lady cruise ship. Having left PortMiami for its inaugral sailing season in late February, where it was due to take 2,770 sailors and 1,150 crew around the Caribbean, the Scarlet Lady ignominiously left harbour in New York with 850 passengers, the friends and family of the crew.
Virgin scrambled to find travel and accommodation for those onboard for their onward journey home from Florida as the world locked down borders, imposed travel restrictions and, especially, closed ports.
Covid-19 been especially unkind to the cruise ship sector. News coverage of stricken quarantined ships passed, hot potato-style, port to port making headlines at the onset of the pandemic. Fast forward seven months and as a second wave grips most regions of the world, the cruise ship industry is bracing itself once more, despite having made tentative steps back into the water.
The first sailings of a series of Norwegian Cruise Line vessels were announced last month, which would reportedly see cruising again with some ships in North America later this year. Port schedules, previously announced deployments and the Norwegian Cruise Line's website confirm cruises as soon as this month, while other vessels may not start service until 2021.
The three largest cruise operators, Carnival Corporation, Royal Caribbean and Norwegian have been fighting to stay afloat since the early days of the pandemic, with shares plummeting in the first few months of the year while expenses soared.
Each company has sought significant loans to shore-up their leaking finances. Norwegian secured a US$1.5bn triple-tranche capital raise, offering two ships and two islands (Norwegian owns Great Stirrup Cay, Little San Salvador in the Bahamas and Harvest Caye in Belize) as collateral to obtain the funds. Royal Caribbean and Carnival Cruise have had to secure similar funding arrangements with the former reportedly agreeing to a US$2.2bn loan facility and the latter having raised US$7bn between debt and equity.
BATTEN DOWN THE HATCHES
Against this backdrop, Richard Branson's Virgin Voyages is launching the first of four ships in Miami this month. The Scarlet Lady features spaces designed by some of the top names in contemporary interiors to create an Adult-by- Design cruise, a sanctuary at sea for the 18+ traveler. Putting a marketing spin on its luxury offer, the company refers to its style as Rebellious Luxe, in which Virgin Voyages will offer value for its sailors with all restaurants, group fitness classes, soft drinks, and much more included within the voyage fare.
All Virgin Voyages ships have been designed by a creative collective who are the brains behind some of the world's most-loved boutique hotel brands. The collective includes names like Design Research Studio (Tom Dixon), Roman & Williams and Concrete Amsterdam, who have all been inspired by the brand's design concept- the modern romance of sailing and Virgin Voyages' mission to redefine the experience of a vacation at sea.
In a debut to the world's media pre-Covid, the designers of the ship were complimented for the asthetics of the cabins and non-ship-like style that pervades the interior of the vessel. However, the practicality of the cabins that feature convertible sofa-beds, tiny washrooms, unstable furniture, a truly miniature pool and a tatoo- parlour that would prevent participants from being able to swim or spend time sun-bathing, were criticised for being too 'non-cruise' for their own good. Combine this with a target audience of affluent 20-somethings and a launch mid- second wave and the risks appear to be mounting.
SCARLET LADY'S PROPOSITION
In addition to presenting a project featuring multiple bars and restaurants, a gym, a running track, two pools, a 360-degree lookout, the biggest sunbed in the world, and more… the Virgin Creative Collective (concrete) is designing all four ships with their own dedicated spaces. Scarlet Lady is currently ready for her guests to arrive and will soon set sail in the Caribbean. Three additional ships will follow the same blueprint; the second, called Valliant Lady, will explore the Mediterranean in 2021.
concrete changed the blueprint of traditional cruise ships by adding a running track and a two-story F&B pavilion as the heart of the Aquatic Club. The red loop floats over the upper deck and functions not just as a promenade, but also as a visual connection between the Perch at the very top of the ship and the Athletic & Aquatic Club on the decks below.
Athletic Club
Designed with the aesthetic of athletic social clubs of the past, the Scarlet Lady's Athletic Club incorporates not just an active Training Camp room and boxing classes, but also a basketball court and cold-pressed juice bar. The club extends across both sides of the aft of the ship as an active outdoor lounge and adult playground. Topped by a sundeck, it features the largest daybed at sea.
Aquatic Club
The pool deck has the sophisticated glam of a contemporary superyacht. Whether you're looking for mornings spent sunbathing on one of the daybeds, or letting last night's choices fade away as you glide through the water — the pool club is a serene space for ultimate relaxation.
Runway or running track
The signature, Virgin-red running track floats over the upper decks of the ship inviting passengers to sprint, skate, or stroll whilst enjoying the best view over the ocean and the ship alike. It is an iconic showstopper, but worth changing the blueprint of the ship to make it happen?
The Perch
360-degree views over the ocean, whilst an extensive red, translucent sunshade protects passengers from the sun and bucket showers are available to quickly cool down.
Restaurant Razzle Dazzle – deck 5
This restaurant offers creative dishes inspired by classic comfort foods. The interior is based on dazzle camouflage – a type of ship camouflage used extensively in World War I- based on the ability to blend in by standing out.
The disruptive pattern is literally covering everything: at the walls and floors it is brought back in diagonally layouts black and white rubber stripes, in the room dividers the pattern is built up in black powdered steel structures, and even the wooden tables in the centre of the restaurant follow the diagonal pattern.
Restaurant Test Kitchen – Deck 6
Inspired by Escoffier's Ma Cuisine, this laboratory-like restaurant hosts cooking classes and evolving tasting menus. It is one part cooking school and one part restaurant. The Test Kitchen restaurant has an eye-catching entryway with a light fixture showing images of herbs and spices that mimic the periodic table.
The laboratory-like environment is accented by metallic furniture with greenish leather upholstery, custom made metallic cupboards, and fridges stocked with storage and a finishing touch of beakers, test tubes, and volumetric flasks. The heart of the space forms the two live kitchens with bar seatings all around them.
CHOCK A BLOCK
The original plans for the launch of Virgin Voyages' Scarlet Lady drew criticism online for initially lacking a casino. Even now, the website and promotional material for the Scarlet Lady does not highlight the inclusion of any kind of gambling activity – yet it does exist. Virgin Voyages vowed to "do cruising 'differently" and as a result the company seriously questioned whether its cruise ships would feature casinos onboard.
Despite the imminent opening of Virgin Hotels Las Vegas in January 2021, the association with cruise ship casinos and an older demographic appears to be one that Virgin Voyages has sought to avoid. None of the literature for the launch of the vessel or the promotional videos of the interior space shows any aspect of the casino, which seems less an oversight and more a strategic decision.
Virgin Voyages has confirmed that all its new vessels will feature a casino, albeit comparatively small ones. The casino will include a mix of slot machines and table games, which can be played directly from "The Band" Virgin Voyages' smart wearable technology that creates a cashless environment onboard.
The casino features 115 slot machines, with space divided into four zones: the Asia zone offering four distinct linked progressives, including Dancing Drums; the Tournament zone for staging competitions; the Adventure zone includes some of the latest slots, such as Tarzan and Wonder Four Towers and, finally, the general gaming Ocean zone.
Customers have the choice of 10 gaming tables provided for the casino by the Italian firm, Abbiati Casino Equipment, each hand-crafted and specially designed for Virgin Voyages. The tables include a craps table (odds 3,4,5Xs) allowing side bets and bonus bet up.
Two roulette tables (European or American wheel), electronic Texas Hold'em (not a live dealt game) a single deck blackjack (odds 6/5) and five further tables that include- blackjack (odds 3/2), three card poker, Ultimate Texas Hold'em and baccarat (flip tables).
Canada-based electronic table games manufacturer, Jackpot Digital, has signed an agreement with Virgin Voyages to provide its latest ETGs to the cruise casinos. The company's Jackpot Blitz has successfully launched in nearly 40 cruise ship casinos to date, able to automate poker operations onboard to reduce costs and increase revenues.
"We are very excited to grow our share of the cruise ship casino poker market through this agreement with Virgin Voyages," stated a Jackpot Digital spokesperson. In September the company updated markets with an announcement that it had extended the maturity date of its debt and reduced the interest rates it paid.
President & CEO Mr. Jake Kalpakian stated: "By successfully refinancing and extending our debt to July 1, 2023, we have significantly enhanced our financial flexibility to manoeuver through the economic challenges of the Covid-19 Pandemic. The debt extension combined with our significant reduction in operating costs are just some of the tough and necessary steps we are taking to survive and also create value and growth for the future."
Konami Gaming was selected by Virgin Voyages to provide its Synkros casino management system for its founding fleet of luxury cruise liners. The Las Vegas subsidiary of Konami Holdings Corporation, which designs and manufactures slot machines and casino management systems, stressed that "Synkros' agile architecture, real-time open integrations and dependable performance is ideally suited for operating in the open seas.
Delivering the system, alongside its newest titles via the KX 43 cabinet, Synkros' combined marketing capabilities and bonusing engine strives to deliver an elevated experience throughout. "Virgin Voyages is focused on delivering irresistible vacations that are uniquely transformational and rejuvenating for sailors," said Frank Weber, Senior Vice President of Hotel Operations for Virgin Voyages. "Our Scarlet Lady is Adult-By-Design, which means that we are building a sanctuary at sea for the 18+ traveller, complete with epic experiences for our Sailors to enjoy."
Virgin Voyages has also signed up with URComped, a player comping service that specialises in cruise ship and destination casino complementary packages for tiered players. Free to join, the service includes the M Resort, Tropicana Vegas, the Venetian Las Vegas, Royal Caribbean, Celebrity cruises and Resorts World Bimini Bahamas Resort within its client roster.
A DIFFERENT TACK
The Scarlet Lady's casino is located on deck 6 adjacent to the nightclub. It is around a third of the length of the deck and only runs on one side of the ship. Guests are not allowed to smoke within the casino and Virgin Voyages have strict rules about where smoking is allowed.
There is a smoking room within the casino with six slots and four poker machines and smoking areas are provided throughout the vessel. A guest found smoking anything, including vaping, in their room (and balcony) or other non-designated areas onboard, agree to a US$1,000 fee to be added to their onboard account, and may be disembarked from the voyage, which may be at a port of call.
Virgin Voyages have ditched the traditional cruise cards and have instead replaced them with aforementioned wearable technology. The wearable comes in the shape of a bracelet, 'The Band,' and is used when embarking/ disembarking the ship, for onboard expenses, opening cabins and for play at tables and slots in the casino. The Band is made from recycled sea- plastic and will be delivered to guests pre-cruise.
Virgin Voyages' Casino Player Programme Manager, Jennifer Wengert, explains how The Band works: "Passengers can use the wearable, which is like a bracelet on the wrist, to tap a slot and download cash to the machine, or via tablets if they want to play a table game, to access their cash. The limit prior to sailing is US$1,500 per day, per passenger. We also provide kiosks, which are similar to ATMs, throughout the casino to withdraw cash, and have a cash desk with a Cash Advance option as well."
Passengers will receive their wearable no later than two weeks prior to sailing as this escalates the check-in process, whereby guests scan their wearable against a check-in tablet, present their passport and onboard without any check-in lounge. If passengers want to be rated in the casino it's the same process, as the casino provides tablets at the tables and directly at the slots where you tap in and tap out.
Ms. Wengert is working to build a casino loyalty programme to provide additional benefits to passengers, whilst pre-booked passengers in balcony rooms and above have all their drinks within the casino provided as part of their package. "Virgin Voyages is a different experience in that we don't charge for wifi or gratuities. We don'tcharge at any of the 20+ restaurants or the diner onboard. We include dining at Michelin star rated chef restaurants as part of cruising with Virgin. It's very different from anything provided by other cruises."
LOTS TO FATHOM OUT
In addition to the wearable technology, Virgin Voyages has also heavily embraced smartphone technology, which means that passengers will be spending a great deal of time with the Scarlet Lady's accompanying App. The Virgin Voyages App is utilised to make bookings for the restaurants onboard and for providing room service.
And if a passenger shakes their phone champagne magically appears in their room. Alerts are also used via the App to draw passengers' attention to special activities taking place, such as a pool deck contest, or a casino slot tournament. Everything onboard is accessed via the App, so much so that the Scarlet Lady and her sister vessels don't feature in-cabin phones.
The Scarlet Lady launches with four and five night itineraries, all leaving Miami Florida. Virgin Voyages has partnered with Resorts World Bimini to offer an exclusive Beach Resort Club in addition to a further night's stay at Costa Maya, Mexico itinerary, exclusively with Virgin Voyages. Virgin Voyages Beach Club at the Bimini resort features a, full service bar, restaurants, beach lounge chairs and cabanas.
Several big question marks hang over the launch of Virgin Voyages new vessels. Can an audience be found for a cruising experience that targets a younger demographic was the obvious challenge before Covid-19 blew everything out of the water.
Now the task ahead of Virgin Voyages is to make cruising relevant again to a customer base that must be convinced to spend large sums on an all-inclusive cruise experience that won't appeal to the traditional older generation of cruisers. But perhaps that's Virgin Voyages' trump card?
The chance that the more Covid- vulnerable will be desperate to head-off cruising again in the near future has the established cruise companies worried for their future and carrying significant debt into uncharted waters. Could Virgin's appeal to a younger less fearful customer base prove to be the insurance it needs against the long-term effects of the pandemic? Time will tell.