By
Phil
- 12 September 2023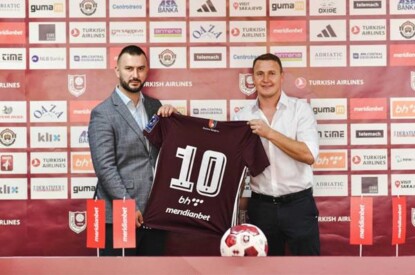 Meridianbet has announced its sponsorship of FK Sarajevo, a football club with a storied history and a prospective future.
Founded in 1946, their illustrious achievements include being crowned champions of former Yugoslavia twice, securing the title of Bosnia and Herzegovina champions five times, winning the Bosnia and Herzegovina Cup seven times, and clinching the Bosnia and Herzegovina Super Cup once.
This sponsorship further underscores Meridian's commitment to promoting and uplifting sports on a global scale. The partnership with FK Sarajevo, Bosnia and Herzegovina's most popular clubs, showcases Meridianbet's dedicated efforts to back teams filled with ambition, talent, and a rich history.
Meridianbet's community investment in Bosnia and Herzegovina is decades-long. The company has recently won the special charity auction to buy a signed Edin Džeko national team jersey to raise donations to support children with spinal muscular atrophy in Southeast Europe. The project intends to gather funds from supporters, businesses, and investors to help families financially with the costly treatments associated with SMA.
Meridian's sports sponsorship horizon is vast and varied. As a leading global betting partner, the brand supports over 30 amateur and professional clubs worldwide, providing not only financial aid, but also essential sports and technical equipment.
In Southeast Europe, the brand is official sponsor of KK Crvena zvezda, Turkish Airlines Euroleague participant.
The brand remains a driving force behind various humanitarian tournaments and competitions, all channeled towards helping children faced with life-threatening and rare diseases.
As a testimony to its global influence, Meridian sponsors more than 30 premier football, basketball, and other sports teams and associations worldwide.