By
Lewis
- 3 June 2020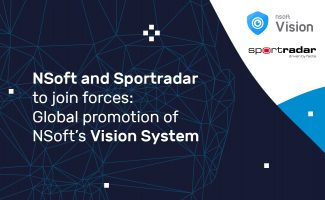 NSoft and Sportradar have extended their existing cooperation, with an additional agreement signed defining the scope of the collaboration which is dedicated to global product awareness of the NSoft developed Vision software. Vision will launch in Australia and other markets from the beginning of this month.
Vision is a powerful software based on AI service and face recognition technology. Business-wise, NSoft Vision is an AI-boosted Video Management System prioritising the data utilisation to make better business decisions.
Vision covers all surveillance industry standard features such as continuous recording, live stream, playback functionality as well as motion recording and motion area search. Vision is able to generate data such as face recognition, age, gender, and emotion prediction as well as to detect camera frame hotspots and present them in the form of heat maps.
The system also allows users to identify, categorise and mark highly relevant customers. It enables companies to spot high-risk individuals or VIP clients, an action that raises the quality of day-to-day business operations.
The true asset of Vision is a user-friendly client interface and reporting system as well as 24/7 support by NSoft's specialists. Vision is a system for companies that value the data-backed decision-making process.
"With Vision, the company doesn't have to guess what are its customers' habits – the company knows it, it is already a step ahead," commented Emina Ćehajić, NSoft's VP Business Development. "Vision is truly an asset in terms of business intelligence and we love what it does for our customers.
"Over the course of 2019 and in Q12020 we have got excellent feedback from our partner-companies who were insightful to implement the Vision system and its data into day-to-day operations. In a short period of time, they have empowered their businesses by data-driven decision making. I am delighted that Sportradar also recognized the potential of the product and will join us on this exciting journey of global market penetration."
Dean Bastin, Global Manager, intelligence and investigation services at Sportradar, added: "The team at Sportradar see the potential that Vision brings to the market, and are excited by this truly innovative product. The practical applications of Vision are endless, especially in the area of sporting integrity and event security where its capabilities will help federations and sporting bodies alike in tackling the unique issues that they face in those areas."