By
Phil
- 22 September 2021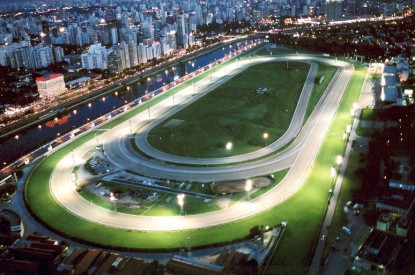 The President of the Brazilian Jockey Club, Raúl Lima Neto, wants jockey clubs and racetracks in Brazil to be allowed to offer other types of betting, including casino gaming.
He said that Brazilian jockey clubs would establish alliances with experienced operators in non-horserace betting should the opportunity arise.
He was speaking as the Tourism Commission of the Chamber of Deputies held a public hearing on gambling. Convened by pro gambling lawmaker Deputy João Carlos Bacelar the meeting aims to speed up the approval of casinos in Brazil and other types of gaming in via Bill PL 442 /91.
Guests included: Bruno Omori, President of the Institute for Development, Tourism, Culture, Sport and the Environment, Raul Lima Neto President of the Brazilian Jockey Club and Magno José President of the Brazilian Institute of Gaming.
According to Magno José legalizing and regulating gambling could formalize at least 450,000 jobs and generate as many as 200,000 new jobs. A newly regulated industry is also expected to collect R20,000m a year (US$3,814.4m) in taxes, and up to R$7,000m (US$1,335m) from the licenses of casinos, bingos, slot machines and online gambling he said.
Bruno Omori also highlighted the urgent need to legalise gambling in Brazil saying that it was time to move 'quickly to approve this agenda.'
The bill in its current form would only allow for casinos in integrated tourist complexes, which include hotels, concert halls, theatres, convention centres and shopping centres. The most populated states such as Rio de Janeiro and São Paulo would be permitted to house up to three casinos with integrated tourist complexes, while the others would only be permitted to have a single establishment.
At the hearing, Antônio Dias, a member of the Brazilian Association of Resorts, said he was against the location restriction. "The private initiative must have this freedom. The big complexes, naturally, will be close to the big urban centres, it is like that all over the world, " he said. He also argued that Brazilian business interests and investment should be prioritized in the new version of the bill.
Felipe Carreras will serve as rapporteur of the drafting of the new version of the bill. The working group has been given 90 days to update the text of the Bill PL 442 /91. Last week Deputy Carreras, stated that it was time for Brazil to give gambling the go ahead.
Talking to Radio Jornal he said: "The time has come to end hypocrisy, to regulate something that, to a large extent, is already present in the culture of our country. "According to Carreras, the delay in regulating gambling in Brazil has generated huge losses for the Brazilian economy and it was high time that Brazil should follow in the footsteps of other countries in Latin America such as Argentina, Colombia, and Peru.