By
Phil
- 22 November 2013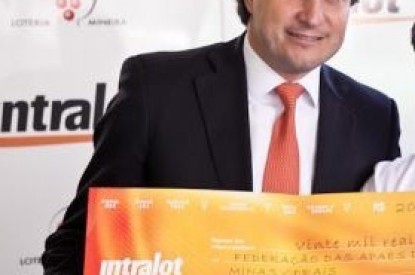 Intralot was the proud Headline Sponsor of the first Brazilian Gaming Congress, held November 18 to 20 in Rio de Janeiro.
In view of the World Cup 2014 and the 2016 Olympic Games, the Congress brought together internationally renowned gaming operators, suppliers, and sports agencies, as well as Brazilian sports, lotteries and gaming regulators and key government officials.
Nikos Nikolakopoulos, Managing Director of Intralot Latin America, participated at the opening panel of the Congress sharing his insight on the potential of the betting market in Brazil and presenting the benefits from the market opening for both the State and its citizens, while highlighting the big opportunities arising from the two upcoming major sporting events that will take place in Brazil.
In 2010 Intralot forged a partnership with LEMG-Loteria do Estado de Minas Gerais (Loteria Mineira) aiming to offer innovative gaming solutions for the benefit of the Lottery, the State and its players.
Sergio Alvarenga, Managing Director of Intralot Brazil, said: "We are pleased to support the Brasilian Gaming Congress as the Lead Sponsor, since we believe that stakeholder engagement furthers effective dialogue among lottery professionals and advance the development of the gaming sector."
Clarion Events Head of Content, Gaming, Ewa Bakun, said: "We were delighted to be working with Intralot at this inaugural Congress. Intralot has been an important partner of Brazil's lotteries for a number of years and has an intimate understanding of the marketplace. The company shares the same vision for the event as we do – to help key authorities understand the potential of a safe, secure and reliable sports betting market and to explore other opportunities in the gaming sector."
The Brazilian Gaming Congress focused on the future of gaming in Brazil. Specifically, congress participants addressed the safe, secure and responsible methods for regulating sports betting and online lottery and defined a roadmap for maximizing the positive impacts of regulated and innovative sports betting in the region, identifying the best steps forward.