By
James
- 6 October 2022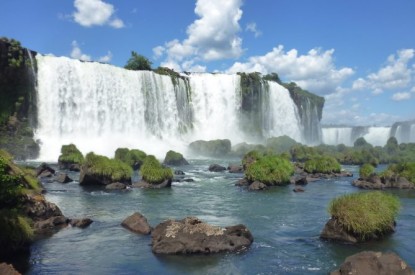 In a meeting with counselors and directors of the Commercial and Business Association of Foz do Iguaçu Brazilian Deputy Nelsi Conguetto Maria (Deputy Vermelho) defended the legalisation of gambling. Vermelho said that casinos would be a way to boost the national economy, promote tourism and generate new jobs. Casinos are part of a number of proposals aimed at improving the area which borders Argentina, and Paraguay.
Talking to local radio this week after the first round of the Presidential election Vermelho reiterated his support for the bill once again saying that it could be used also as a way to meet salary wage minimum requirements for nurses. According to Vermelho the Senate is expected to vote on the bill later this year.
"We approved in the Chamber the project that allows gaming in Brazil and now it is in the Senate. We are allocating a part of the proceeds from the games to solve health (funding) problems and guarantee the national level of nursing," he explained.
The deputy added that Foz do Iguaçu could have a large tourist casino under current proposals. According to the bill each state may have one casino, with the exception of Minas Gerais and Rio de Janeiro, which may have two, and São Paulo, three. Casinos may be built in resorts as part of an integrated leisure complex that must contain at least 100 high-end hotel rooms, meeting and event venues, restaurants, bars and shopping centres. In order to determine the places where casinos can be opened, the Executive Power must consider the existence of tourist heritage and the economic and social impact the casino would have on the region.
The city borders the Argentine city of Puerto Iguazú and the Paraguayan city of Ciudad del Este. The city's economy is based on tourism but unlike Argentina and Paraguay casinos have been banned. Over a million people visit the falls each year. However, tourists generally only stay for short periods as the majority of visitors quickly move on. Casinos would mean that tourists would stay longer in the border area.
Vermelho is a long time supporter of gambling reform. In September 2021 he was part of the working group in charge of updating gambling Bill 442/91 before it headed to the senate.