By
Phil
- 11 November 2019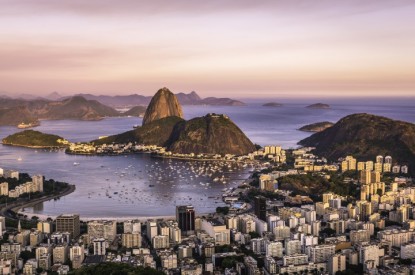 A member of the House of Deputies has put forward a new project which would legalise casinos in Brazil.
Deputy Afonso Motta a member of the Democratic Labour Party (PDT) presented bill la Bill 5783, last week at the office of the President of the House, Rodrigo Maia. In explaining the reasons behind the bill the legislator stated that data from the Brazilian Legal Game Institute reveal that the game ban causes a loss of 20,000 million reais (US $ 4,992 million) in taxes per year.
In the justification for the project Motta stated: "In recent years, Brazil has been facing a persistent fiscal deficit, which will not be resolved before 2023. Due to the high fiscal burden borne by both the general population and the productive sector, this is not resolved by increasing taxes. In this context, the legalisation of gaming would be extremely advantageous for the Brazilian economy."
The bill proposes the building of casinos in regions with tourism or in regions close to borders. "We believe that regions with tourist attractions are ideal because they already have a hotel infrastructure and this would reduce the necessary initial investment," said the legislator.
"As for the border cities, Brazil is one of the few countries in South America where gambling is not legalised. That is why, at the borders, the situation borders on the surreal: almost all our neighbouring countries have casinos a few kilometres away. It will be the case of the new casino that is being built in Rio Branco, Uruguay, which borders Yaguarón, Rio Grande do Sul. Half of the players in Uruguayan casinos are Brazilian, "he added.
The text also mentions other examples of casinos installed in border cities of Uruguay, Argentina, Paraguay and Colombia, which are usually frequented by Brazilians.
"With the purpose of promoting the development of our border regions and reducing the trade balance deficit caused by the exile of Brazilian tourists to foreign casinos, we forward this bill designed to approve the installation of casinos and hotel casinos in cities whose centres are less than 50 kilometres from the border or have a tourism potential to exploit, "Motta concluded.
Pressure is mounting for changes to Brazil's antiquated gaming laws. A new bill put forward by Deputy Eduardo Bismarck in October would allow for an expanse of gambling nationwide. PL 5319/2019 seeks to amend the Criminal Offenses Act, to authorise gambling in leisure resorts and hotels authorised by the Federal Executive Branch. The President of the Chamber of Deputies, Rodrigo Maia, has been a long time supporter of legalising casinos in Brazil in order to improve tourism and The President of The Brazilian Tourist Board (EMBRATUR) Gilson Machado Neto is also pushing for casinos in large scale resorts.