By
Lewis
- 28 September 2020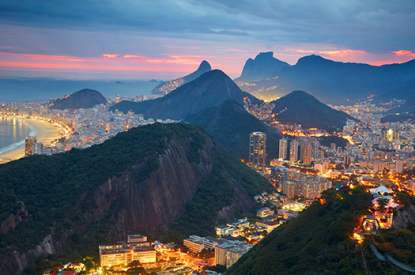 A senator has put forward a new bill that would allow for casinos in integrated resorts. PL 4,495 / 2020 was put forward by Senator Irajá Abreu who says that the measure will help expand tourism. Casinos as part of hotels also has the backing of The Minister of Tourism, Marcelo Álvaro Antônio.
In his justification for the new bill, Irajá argued that the legalisation of casino games within integrated resorts will "attract large investors to the Brazilian tourism market, boosting economic activity in all regions of Brazil".
If approved the physical space occupied by the casino should constitute a maximum of 10 per cent of the total area of the integrated resort. It also establishes that it is up to the Union, exclusively, to grant, regulate and inspect the services, the implantation and the operation of the activities of resorts integrated with casinos.
In justifying the project, the senator said that the national tourism industry "has been suffering from the economic slowdown due to the Covid-19 pandemic and with numerous problems in the sector, such as the low visitation of international tourists, the lack of public investments and concerns about public security, the lack of resources for marketing and promotion campaigns, among others."
Integrated resorts are defined in the bill as "tourism complexes with casino operations that combine hotel facilities, convention centres, spaces for fairs, exhibitions, corporate events, congresses and seminars, incentive meetings, ecumenical centres, in addition to different entertainment and convenience options offered to the visitor, such as restaurants, bars, spas, shopping centres, art galleries, museums, theatres, golf courses, theme parks, water parks and other options ."
Irajá argues that the construction of integrated resorts in Brazil would significantly increase tourism to the country and says that one of the main objectives of his proposal is to increase the country's participation in the international expo market.
While there has been no fixed time set for debate the bill seems to have significant backing. The Brazilian Tourist Board President Gilson Machado and a number of deputies including Eduardo Bolsonaro (the son of President Jair Bolsonaro) were present during the presentation of the bill.
In his Instagram account, Senator Irajá said that the investment potential stood at R$4bn. The newly regulated industry could generate 161,000 jobs, R$18bn in taxes per year and generate R$5bn in license fees. The number of foreign tourists would increase from six million to 12 million in five years he said.
"We now have to create the legal framework for the installation of these projects in Brazil. We cannot wait for the reopening of world tourism to think about new attractions for foreign tourists," he said.