By
Phil
- 5 January 2015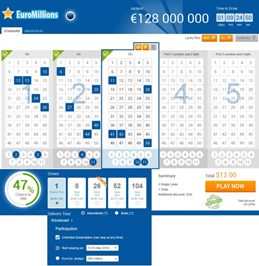 LottoPlace, the first white label powered by LOTTOTECH, has been officially launched.
The new lottery broker gives customers around the globe instant online access to the world's best lotteries. LottoPlace offers numerous useful tools, winning strategies and exclusive features that customize user experience. Astrology fans, statistics-obsessed users and those who believe in pure luck benefit from specially developed entertaining features such as Auto Pick, My Lucky Numbers, Frequency Lotto Calculator and Horoscope.
LOTTOTECH provides an innovative platform which allows anyone to purchase tickets online for the world's biggest official lotteries regardless of their location. The platform is the first in the industry to remove geographical and legal constraints by implementing Ticket Scan and Ticket Insurance systems. It offers access to more than 20 official lotteries from around the globe, groundbreaking widgets, tools and features which increase player value tremendously. Our platform represents a flexible and scalable turnkey solution that allows LOTTOTECH's partners to enter new lottery markets and explore exciting revenue opportunities.
The LottoPlace launch marks another success for LOTTOTECH. In October the company gained the trust of its first investors and European private funding amounting to US$6m. The money will be used for continuous improvement of the platform and the implementation of new features.
Furthermore, new strategic partnerships are to be announced at the beginning of 2015.