By
Phil
- 14 November 2017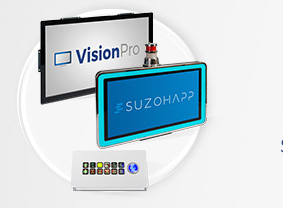 SuzoHapp twill be a silver sponsor of the upcoming BEGE Expo, the main gaming tradeshow in Eastern Europe that will take place between November 22 and 23 in Sofia, Bulgaria.
"We are proud to sponsor this must-attend show. BEGE is the best showcase to display our integrated solutions specifically designed for the Gaming market and, for this reason, our participation at this show is critical," stated Goran Sovilj, Vice President of Sales Gaming EMEA.
At this year's BEGE, SuzoHapp will show the new PKT (Picture Key Technology) push buttons. This is leading-edge technology in tactile controls, combining SuzoHapp's key capabilities in push buttons, displays and RGB LED design to create an innovative all-in-one solution. Through a patented technology, SuzoHapp enables its clients to bring dynamic content via a highly configurable user interface. Game designers are no longer limited by the user interface and end users now receive eye-popping content through a tactile button, creating a more rewarding and comforting experience.
A significant focus will also be placed on monitors and LCD's, featuring ELO touchscreens as well as SuzoHapp's own Vision PRO monitors. A vast selection of toppers will be displayed, including the top-selling SH1950 LCD Video Topper, now available in a backlit version, as well as the RBG Pill, the Xenon RGB and the Ellipse toppers.
Cash handling equipment is a prominent offering in the SuzoHapp portfolio and a broad range of components for manufacturers will be showcased at BEGE. These include Comestero coin validators (RM5 HD) and banknote validators (MFL and SC Advance), bill recyclers (Bill-to-Bill) and coin hoppers (Flow, Cube and Evolution).
SuzoHapp also offers complete solutions for operators, such as Comestero change machines and SCAN COIN coin and note sorters. BEGE attendees will have the opportunity to learn more about the Dual Coin Pro and Easy Pro change machines and the SCAN COIN SC-8220 banknote sorter.
Finally, SuzoHapp will show a selection of high-performance components, such as speakers, locks, USB chargers and flip card units.
Amir Saluhovic, Regional Sales Manager, commented: "We truly value any opportunity to talk with our customers which is why we are so involved in local shows. At BEGE, we will demonstrate once again our strong local roots, customer focus and commitment to support our local operators in every country we serve."
"Naturally, the after-sales market plays a great role for us as well," explained Ferry Bostelaar, Regional Sales Manager. "We are here to support our customers for all their specific requirements."
"Speed and flexibility are what keep companies competitive today. We are strongly focused on R&D and this allows us to constantly develop new solutions to meet any customer expectations."