By
Phil
- 29 October 2019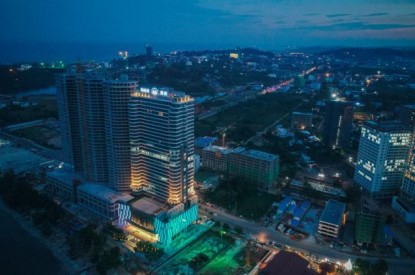 Amax International Holdings will lease gaming tables at its Sihanoukville casino in Cambodia to Lion King Entertainment, a company controlled by its own Chairman and CEO Ng Man Sun.
Amax's Chairman, who owns 27.74 per cent of Amax, will lease four mass gaming tables in Sunshine Bay Hotel, where a casino opened on the first and second floor of the Sunshine Bay Hotel in Mittaphea Town, Sihanoukville, earlier this month.
Amax subsidiary Victor Mind Global will rent the tables from Lion King, which is wholly-owned by Ng Man Sun, for a period of 11 months until 30 September 2020 at a monthly rental of HK$1.2 m (US$153,057).
Lion King will then assign the gaming table business rights to Victor Mind Global for five years at a cost of HK$120m
To cover this cost, Lion King will take over a 60 per cent share in Forenzia Enterprises who owns an online gaming licence in Vanuatu. This licence was issued by the Ministry of Finance and Economic Development of the Republic of Vanuatu to Forenzia Enterprises for a term of 15 years to conduct interactive gaming business until 27 February 2029.
Amax said: "Lion King will mainly launch baccarat on the gaming tables. It will be entitled to 100 per cent house win winnings and responsible for 100 per cent house losses while shall bear associate staff costs incurred and tax associate with the gaming table business. The company sees attractive potential in the gaming market in Shihanoukville and would like to commence its business operation in the casino as soon as practicable."
Last month Amax announced its intention to change its name to Century Entertainment to 'refresh the corporate image and identity of the company and more appropriately describe the vision of the group.'
In February it pulled out of its 25 per cent interest in Greek Mythology Casino in Macau.