By
Phil
- 4 April 2022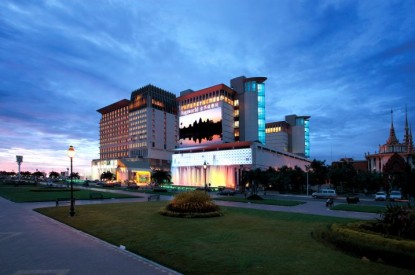 Cambodian operator NagaCorp, owner of NagaWorld in the capital of Phnom Penh, has seen a 13.7 per cent year-on-year drop in GGR to US$109.9m for the three months to 31 March 2022, due to the continued drop off of VIP gaming.
VIP rolling chip dropped by 92.9 per cent, compared to last year, reaching US$177.7m with VIP GGR dropping by 93.1 per cent to US$4.3m.
On a positive note the figures showed improved on the final quarter of 2021, with all mass gaming segments improving. Mass table GGR increased by 73.5 per cent year-on-year to US$51.6m with machine gaming increasing by 64.1 per cent to US$25.2m. Premium mass also improved by 53.3 per cent, reaching US$28.8m.
NagaCorp said: "The average daily net gaming revenue of the Mass Table segment continues to improve from US$375,000 in 4Q2021 to US$572,000 in 1Q2022, representing an approximately 52.5 per cent. For the EGM segment, the average daily net gaming revenue in 1Q2022 was US$280,000, representing an approximately 15.2 per cent QoQ growth. Likewise for the Premium Mass segment, the average daily net gaming revenue in 1Q2022 was US$212,000, representing an approximately 16.5 per cent QoQ growth. In aggregate, the total daily average net gaming revenue in 1Q2022 was US$1,078,000, representing an approximately 33.4 per cent QoQ growth as compared to 4Q2021.

"Based on the Group's preliminary unaudited consolidated management accounts for 1Q2022, the Group generated about US$60.5m of EBITDA, representing an approximately 83.3 per cent increase as compared to 4Q2021."

It added: "The Group's cash and cash equivalents has further increased from US$102.7m as of 31 December 2021 to US$162.7m as of 31 March 2022. Such increase is mainly due to the continued recovery of business volumes, improved cost efficiency post rationalization program and prudent cash expenditures decision from the Company's management. Moody's has completed their annual review on the Company on 23 February 2022. Despite credit downgrading in the gaming sector in the past year, Moody's reaffirmed our B1 credit rating on expectation of recovery in the Company's operating performance, improved leverage metrics in 2022 and good liquidity over next 12 to 18 months. Again, this reflected our strict financial discipline controlling gearing, the uniqueness of our gaming license, and our advantages of operating in a low cost and low tax environment."
"As at 1 April 2022, there were in total 86 direct weekly international flights to Phnom Penh (as compared to 58 as at 27 January 2022), representing an approximately 48.3 per cent increment. Among those, 28 from Thailand, 19 from Singapore, 11 from Vietnam, 10 from Greater China, nine from Seoul, six from Malaysia and three from Philippines. In addition, Cambodia announced reinstatement of visa on arrival for all travelers as well as abolished the need for negative polymerase chain reaction (PCR) tests prior to arrival and rapid test on arrival. The Company currently believes that travelers from these potential markets and the traveler-friendly policies will help to restore the tourism industry in Cambodia in 2022 and hence, drive up the headcounts in our properties," it added.