By
Phil
- 10 August 2016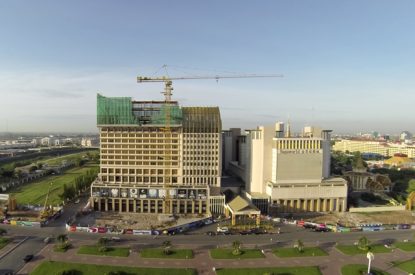 NagaCorp, the operator of the only casino in Cambodia's capital Phnom Penh, has confirmed it will open its new casino, Naga2, next year, with 200 gaming tables and up to 1,000 slot machines.
With the existing NagaWorld complex reaching full capacity on a regular basis, NagaCorp decided to develop Naga2, costing US$369m, which will be situated a stone's throw away from the current premises with 1,000 rooms. The company broke ground on Naga2 in November 2012. Naga2 contains two components; the NagaCity Walk with approximately 13,248 square metres of retail and public space, and the TSCLK Complex which features approximately 1,000 hotel rooms, 38 luxury VIP suites, a multipurpose-entertainment/theatre with a seating capacity of approximately 2,100 and the new casino.
Tim McNally, Chairman of NagaCorp, said: "We have made considerable progress in the development of the TSCLK Complex Project during the Period. It is expected that the TSCLK Complex will be operational in 2017."
The confirmation of an opening in 2017 came as the Cambodian operator announced that net profit had increased by 24 per cent to US$125.2m in the first half of 2016, due to an improvement in the local economy and an increase in visitors.
NagaWorld, which houses 296 gaming tables and 1,662 EGMs, achieved Mass Market growth of 17 per cent on the tables and increase an 18 per cent increase in EGM bills-in.
Mr. McNally explained: "The business volume growth is attributable to visitor growth to the property and successful operational efficiencies implemented in 2015 that continued to provide convenience for players at the gaming tables and EGM. The implementation of table buy-ins for all Public Floor Tables in 2015 continued to drive incremental growth in business volumes. In addition, the group's collaboration with Chinese outbound travel agents and an independent airline operator to bring Chinese visitors into Cambodia contributed positively to visitor growth of the property. In January 2016, the independent airline operator commenced thrice weekly scheduled flights from the Chinese cities of Changsha and Xian to Cambodia."
The installation of "ticket-in, ticket-out" system to all EGM in 2015 continued to contribute incremental growth in bills-in. The Group's loyalty program, the Golden Edge Rewards Club has 13,900 active Mass Market members, which allows the Group to continue its efforts to understand its members' profile, create targeted marketing promotions and rollout player development initiatives to increase the number of visitors and the amount of gaming spending.
Mr. McNally added: "The overseas junket incentive program introduced in March 2013 has since enabled the group to increase existing table limits while managing volatility and credit risk. VIP rollings increased by 26 per cent to US$4.5bn with a win rate of 2.5 per cent. Despite a lower win rate during the Period, VIP market revenue grew by four per cent to US$111.6m."
Visitor arrivals to Phnom Penh International Airport increased by 10 per cent over the same period. The top three countries where visitors originated from were Vietnam 19 per cent, China 16 per cent and Korea eight per cent together accounting for 43 per cent of total arrivals to Cambodia.
In May the group acquired the Citywalk Group which is the owner of NagaCity Walk, an underground linkway connecting NagaWorld Hotel and Naga2, for US$94m.
Located right next to NagaWorld, NagaCity Walk offers duty-free shopping operated by China Duty Free Group as its anchor tenant. It is expected that the opening of NagaCity Walk will draw more visitation from China to NagaWorld which further strengthens NagaWorld's position as a leading integrated gaming and entertainment destination in the Mekong region.
Mr. McNally added: "We aspire to further penetrate the regional gaming markets of both the VIP Market and Mass Market, by offering attractive commercial terms to junket operators and agents as a result of NagaWorld's low cost structure. The 26 per cent increase in VIP rollings during the period demonstrates the success of NagaWorld's incentive program in promoting NagaWorld to a wider range of operators and players in the region.
"The opening of NagaCity Walk in August 2016 will mark a significant step in the group's development," he added. "NagaCity Walk will enhance the overall retail experience available to patrons and further strengthen NagaWorld's appeal to both the VIP market and mass market. It is expected that the opening of NagaCity Walk will draw more visitation from China to NagaWorld."