By
Phil
- 14 February 2019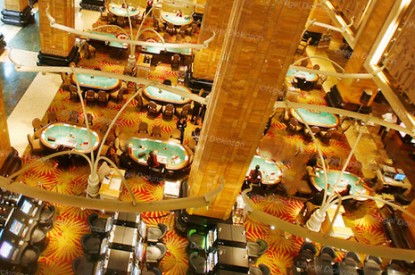 Having seen mass gaming and the run away success of Naga 2 push its revenues over the US$1.43bn mark, an increase of 54.9 per cent on last year's GGR, Cambodian operator NagaWorld said 'all top four Macau mega junkets will operate in Naga2 by 2019.'
The casino recorded an increase in net profit of 53 per cent to US$390.6m for the year.
NagaWorld said: "Naga2 significantly increased the appeal, capacity, quality, range and reach of VIP, mass gaming
and non-gaming offerings, such as up-market gaming and complementary entertainment facilities and equally attractive non-gaming products/facilities including spa, theatre, shopping, competitive rooms and F&B offerings. Naga2 has been transformative and provided the Group with a competitive integrated casino resort product comparable to integrated resorts in other established gaming destinations in Asia.
"The increase in VIP business volume of the Group in 2018 was due to an increase of business at the combined NagaWorld complex, in particular at Naga2 where there has been customer demand for higher table limits and increased rollings. In addition, the increasing investment related visitation to Phnom Penh also contributed to the increase in VIP business volume. Apart from Macau-based junket operators who were already operating with the Group, Suncity Group signed an incentive agreement with the Group to set up a fixed base business operation with full-fledged office facilities, which commenced business on 1 March 2018 and contributed to increased number
of players and rollings.'
To fuel further growth, the Suncity operations in Naga2 will be moved to a larger and more desirable location in the first quarter of 2019. The Group expects all top four Macau mega junkets will operate in Naga2 by 2019. These junkets contributed 70 per cent of Macau's total VIP rollings Despite the significant increase in VIP business volume, VIP customer composition remains well diversified between South East Asia and North Asia.
Describing itself as 'China-ready' NagaCorp said it expected [all top four Macau mega junkets' to 'operate in Naga2 by 2019.'
The company added: "The continued solid and stable growth in the Mass Market segment has laid down a strong foundation for the Group to capture growth opportunities in the VIP Market segment. Our increasingly competitive
VIP services are attracting an increasing number of junket operators, and we expect to open further junket rooms in 2019. As the Group continues its trajectory of asset and business growth, it is also gaining increasing prominence and confidence among the gaming and entertainment community in the region. This allows the Group to further penetrate into new markets, fuelling business growth and expansion."
Union Gaming analyst Grant Govertsen said: "NagaCorp, which was the best performing gaming stock globally in 2018, remains a top pick of ours, and we expect Naga2 to continue to ramp closer to its full potential over the course of 2019. Naga still has numerous growth levers in hand, as well as greenfield development (e.g. Naga3) in the out years.continues to beat expectations as demand remains very robust across all gaming segments and across both properties."