By
Phil
- 28 August 2020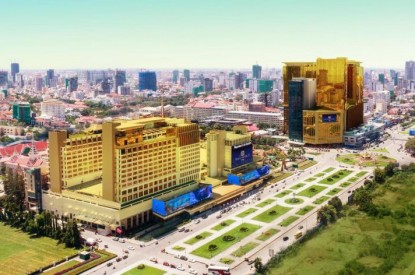 Despite the disruption caused by the coronavirus pandemic, Cambodia's NagaWorld has bounced back to form quickly saying its 'revenues were relatively stable, despite the impact of the temporary closure of the casino operation.'
The Group delivered an increase of 15 per cent in GGR (in 1Q2020) and generated positive EBITDA and net profit during the period.
Since the re-opening of the company's casino on July 8 2020, the group has recorded a steady increase in its gaming business volumes contributed by the patronage of mainly Chinese expatriates who have been currently living or conducting business activities in Cambodia and who are waiting to patronize the casino after 90 days of lockdown. Being the only integrated resort in the city of Phnom Penh has also helped to drive the operational performance of the Group, despite most cross border travel policies in the Asian region remain restrictive.
The company said: "During 1Q2020, VIP GGR and VIP rollings increased by 25 per cent and 18 per centrespectively, generated mainly from players coming from North Asia and South East Asia. The increase was contributed partly by junket operators who have fixed-based operations in Naga 2 and who brought in VIP players, especially during the periods when casinos were closed in Macau, Philippines and Malaysia. NagaWorld was one of the few gaming destinations in the Asia Pacific region available to Chinese visitors before the imposition of the travel restrictions in Cambodia on 30 March 2020. Also, with the relatively low incidence of COVID-19 cases in Cambodia, especially during the first two and half months of 2020, the Company believes that VIP players felt more comfortable visiting NagaWorld. The company's robust VIP performance was also contributed by the sizable group of expatriates (mainly Chinese businessmen based in Phnom Penh) and loyal customers from South East Asia (mainly Malaysians) during the first two months of 2020."
The number of COVID-19 cases in Cambodia is relatively well contained and has won praise and accolades worldwide. The total number of confirmed COVID-19 cases is 273 as of 26 August 2020, of which 249 cases (91 per cent) are imported. 264 cases have been cured (97 per cent recovery rate), with zero deaths.
Many of the company's loyal South East Asian visitors also visited NagaWorld before the closure of their respective countries' borders, especially within the first two months of 1Q2020.
The company added: "We believe that the life span of COVID-19 is shorter than the duration of our monopoly, which lasts till 2045. Despite COVID-19 , the group will continue the development of Naga 3. Its expected completion by 2025 (and/or such mutually agreed extended period) will at least double the capacity of the Group. It is currently expected that the combined NagaWorld complex of Naga 1, Naga 2 and Naga 3 will have about 5,000 hotel rooms, 1,300 gaming tables and 4,500 EGM and many other non-gaming attractions."